Association says demolishing William Whitfield's grade II* gem for parliament refurb 'unacceptable'
A group of conservation architects responsible for preserving some of the country's oldest and most treasured buildings have voiced outrage at proposals to demolish most of William Whitfield and Andrew Lockwood's grade II* Richmond House in Whitehall.
Members of the Cathedral Architects Association said the removal of all but the façade of Richmond House to provide a new building with a temporary chamber for the House of Commons to use while the Palace of Westminster is being refurbished was "needlessly destructive".
Richmond House, which opened in 1987, served as the headquarters for the Department of Health – now the Department of Health and Social Care – for three decades. Proposals for its redevelopment as a temporary chamber for MPs, drawn up by AHMM, have evolved to require the building's demolition rather than adaptation.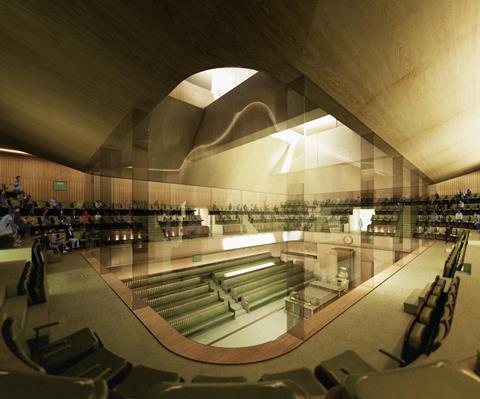 Unveiling the plans in May, AHMM director Paul Monaghan said the practice's proposals made Whitworth and Lockwood's façade the "centrepiece" of the new building, with formal plans expected to be lodged with Westminster council in weeks.
The Twentieth Century Society has described the proposals as a "philistine" act and put Richmond House at the head of its buildings-at-risk list. Michael Hopkins and Save Britain's Heritage published an alternative proposal for the temporary adaptation of Portcullis House.
Now the Cathedral Architects Association – of which Whitfield, who died earlier this year, was once a member – has voiced its concerns over the demolition plans.
In a letter to The Times, signed by chair Jane Kennedy of Purcell and 12 other members, the association urges MPs and the government to consider other solutions to the demolition of Richmond House as part of the process of vacating the Palace of Westminster for its multibillion-pound refurbishment.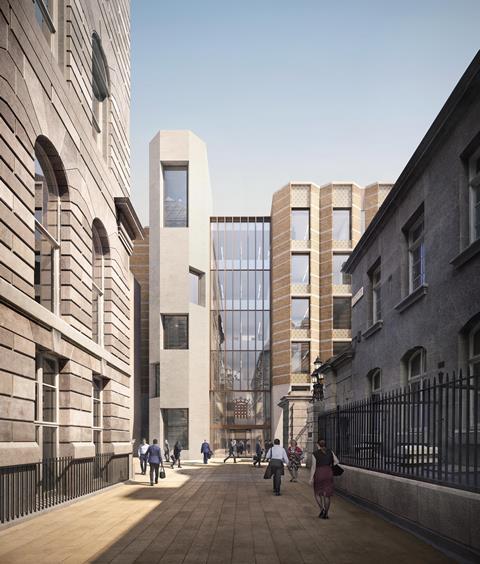 "William Whitfield was a leading cathedral architect, appointed surveyor to St Paul's and working in Canterbury, Hereford and St Albans cathedrals," they said.
"He was a talented creative designer with an architectural language of his own, and highly sensitive to context. Richmond House is one of his finest buildings and one of the best civic buildings of its era.
"The demolition of virtually the entire building to provide a site for a Commons chamber is needlessly destructive and we are urging parliament and the government to consider alternatives.
"Richmond House is listed grade II* and such substantial demolition of a fine piece of architecture is unacceptable."
Earlier this year, AHMM said it had taken 18 months to conclude that Richmond House could not be converted to accommodate the temporary chamber for MPs.
The proposals, expected to go in for planning later this year, are part of parliament's wider Northern Estate upgrade scheme, led by BDP. It includes the grade I-listed Norman Shaw North building and grade II-listed Norman Shaw South building.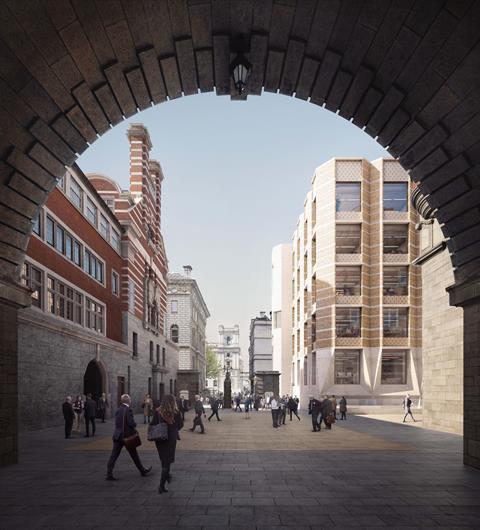 Signatories include Andrew Arrol, architect to York Minister, who said: "I am completely opposed to the idea of the demolition of this building and there must surely be many other alternative locations for a temporary home for MPs, and the Lords, when they have to vacate the Parliament building."
Jonathan Louth, architect to St George's Cathedral, Southwark, and another signatory said: "Richmond House is not only as clever and fine as everyone states it to be, but is also one of the very few 12m wide, naturally lighted and potentially naturally ventilated buildings in government use near parliament.
"As such, given there are viable alternatives that can be secured within the Whitehall cordon (most notably Hopkins offering to amend his own Portcullis House) Richmond House is absolutely the last one that should be thrown away unsustainably and replaced with a more energy-intensive, carbon-embodied new footprint."
Jane Kennedy of Purcell added: "I have long admired Richmond House and consider it to be a unique contribution to the art and architecture of public buildings in the 20th century. The proposed alterations would destroy its fine interiors and would be a huge waste of good building. I am shocked and surprised that this is being proposed when there are plainly simpler and more exciting alternatives."