Sunday Times says University city earmarked by DLUHC for 'Silicon Valley'-style expansion
Cambridge council has said it has "not been consulted" on a reported plan by government to turbo boost growth in the University city which could see as many as 250,000 homes built by 2040.
The council issued a statement yesterday in response to a story in the Sunday Times which said the city's existing local plan would be put "on steroids" in a bid to make Cambridge the "Silicon Valley of Europe".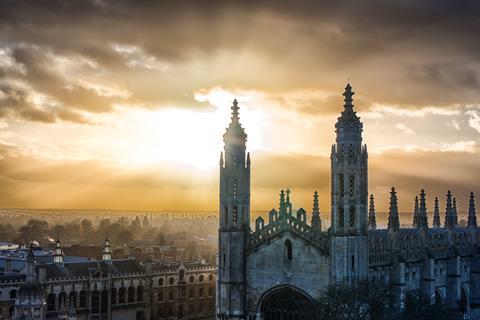 The City Council said it noted the "speculation", but that "the city council has not been consulted on these ideas, which we note are described as being at the 'concept' stage."
It added the council would expect to be "fully engaged" in any proposals and the decision-making regarding the future of our city.
The press report stated the plan has been drawn up by the Department for Levelling Up, Housing and Communities in recent months as part of a plan to put the housebuilding industry back on track following the government's capitulation to anti-development pressure over planning before Christmas.
It said the "Cambridge 2040" plan could see between 200,000 and 250,000 new houses built in the area by that date, with large swathes of land also set aside for business parks, laboratories and science hubs to boost economic growth.
Current draft proposals for a Greater Cambridge Local Plan envisage just under 50,000 homes across Cambridge City and South Cambridgeshire up to 2041 – though it is not clear what geography the government's 250,000-home figure covers.
The report of the Cambridge 2040 plan comes despite Michael Gove having backed away from the delivery of the Oxford Cambridge Arc plan inherited from previous housing secretaries, given resistance from several local authorities along the route.
It also comes despite the Conservative-led coalition government having dropped Labour's Stansted-Cambridge growth corridor plan when it came to power in 2010.
The Sunday Times said that a source said: "It is basically large-scale growth, taking the local plan and putting it on steroids. The idea is that Cambridge becomes the Silicon Valley of Europe."
The paper also said Gove was considering setting up a national planning task force to go into failing town halls that aren't making timely enough decisions.
A spokesperson for DLUHC did not deny the report, and issued the following statement: "We are determined to help more young families own a home of their own - and that means working with local communities to build more of the right homes in the right places.
"We know that development is only welcomed when new homes are beautiful and built alongside new GP surgeries, schools and transport links.
"Our reforms have democracy, environmental enhancement and new neighbourhoods at their heart and will help us reach our target of 1 million new homes this Parliament."