Club and developer wanted to build flats on Backstreet bar
A planning inspector has thrown out a planned mixed-use development by BUJ Architects that would have resulted in the demolition of a famous East End fetish club.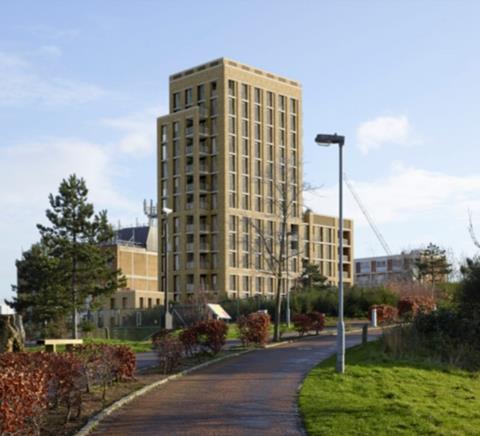 Developer Galliard offered to reinstate the Backstreet bar club, which was founded in Mile End in 1985, in the basement of the new building, but planning inspector Julia Gregory said she was not convinced the venue would be well-received by families who would move in above.
In a letter written to Tower Hamlets council in 2017 the club's owners said they welcomed the opportunity to be rehoused in the new building, which would have featured 46 flats plus commercial space across a building ranging in height from three to 12 storeys.
The developer had appealed an earlier council decision rejecting the scheme. But Gregory backed the council's decision. In her ruling she said while there were potential benefits to the development these "would be at the expense of the character and appearance of the area more generally". She also said the tall building would clash with the scale of buildings envisaged in the local authority development plan for the location.
Gregory went on: "I am not convinced that the reprovision of the Backstreet club in modern surroundings would amount to a public benefit. Much of the character of the club is gained from the fact that little has changed there for some 30 years, and also this would amount to reprovision of what already exists.
"It is a club rather than a public facility. It is also possible that the existing or a new operator might change its character in any event, within the ambit of the controls suggested."
And the inspector said she was "not convinced that the nightclub would be well received by parents with young children living above with views on to Wentworth Mews or would be considered a benefit by future residents".
Councillor Rachel Blake, Tower Hamlets' deputy mayor, said: "For many years our borough has been associated with a well-established LGBT+ community and venues that provide important places for people to enjoy themselves and feel safe.
"A number of factors including high land values have led to the long term future of many of these places coming under serious threat. That's why we're really proud in this case, as we did with additional protection for the Joiners Arms pub, to use our planning powers in an innovate way to help protect these historic LGBT+ venues for future generations."
BUJ's original design dating from 2016 (pictured) was amended after earlier discussions with the council.
A spokesperson for Galliard Homes said it was "disappointed" with the decision.
In a statement the firm said: "Regarding the Backstreet Bar club, Galliard made considerable efforts including the significant offer of replacement premises within the new development, offering financial help to relocate the club to new premises, or offering to financially compensate the club if they chose to cease trading. In the event that Backstreet Bar club ceased trading, Galliard had made it clear that a new club would be marketed to an LGBTQ operator, demonstrating clear support for the community."
"The existing premises are in poor condition and suffer from damp and rodent infestation. We feel it important to highlight that the club has enjoyed the use of the premises rent free on the understanding that the site was to be redeveloped at some stage."
"Galliard's appeal was dismissed on grounds including that a replacement venue for Backstreet Bar club would not be appropriate for families in the residential homes above. Galliard Homes will review its options at this stage."