Local Authority Building Control also failed to correct "misleading" certificate clearing Kingspan's K15 insulation as safe above 18m despite repeated warnings
A building control body ignored repeated warnings about a "misleading" certificate for a combustible Kingspan insulation product while seeking a sponsorship deal with the firm, the Grenfell inquiry has heard.
Local Authority Building Control (LABC), which represents council building control inspectors, had granted Kingspan's K15 insulation a certificate stating that it was of 'limited combustibility'.
The phenolic foam product was not specified on the Grenfell tower refurbishment project but was found to have been used in its cladding system.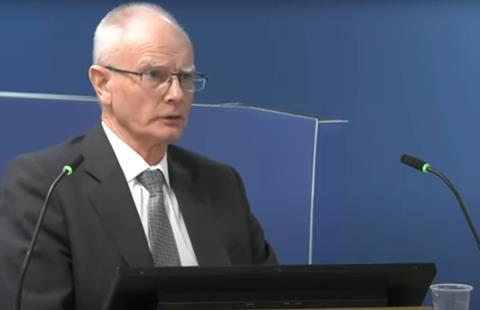 It was marketed as safe for use above 18m despite relying on a 2005 test which only passed because it was used in combination with other materials.
Kingspan had also continued using this certificate despite changing the chemical composition of the insulation in 2006.
The inquiry has already heard that when the new product was tested in 2007, it had turned the test rig into a "raging inferno".
But LABC granted the product a certificate in 2009 clearing it as "suitable for use" on high rises, a claim which Kingspan staff have admitted was "misleading".
Wednesday's hearing was told how LABC received repeated warnings about the certificate until 2014, but did not change it, while staff had also sent emails saying that business with the firm would be "good for the bonus".
Rival insulation maker Rockwool had sent the first warning in 2009, telling LABC that the claim of limited combustibility in the certificate was "of serious concern" and could "lead to confusion for potential clients".
This was followed by another letter from the firm warning that "fire classification claims on construction products is extremely important with respect to both life safety and property protection".
LABC head of policy Barry Turner did not reply to the letters until the next year, telling Rockwool: "It is not for us to explain to third parties our reasons or justifications" and adding "if you have issues with claims made by a competitor I must ask you deal directly with the company making those claims".
Inquiry counsel Kate Grange QC suggested that Turner had been defending the "technically incorrect" claims on the certificate, to which Turner replied: "I put my trust in others that they had done it correctly."
The LABC was then warned by the National House Building Council that K15 was being "accepted in buildings over 18m in height" despite being "by its nature combustible".
And a facade contractor contacted the body in the same month flagging that the certificate, which had been updated in 2013 with added diagrams that Turner admitted had been "cut and pasted" from Kingspan, showed the product being used in build-ups not covered by its test.
Asked if he had thought back to the correspondence from Rockwool after receiving these warnings, Turner replied: "Obviously not."
During the same period, the inquiry heard how LABC had sought a £12,500 sponsorship deal from Kingspan, offering the firm "direct outreach" to customers "through referrals".
Asked if the deal threatened the body's independence from manufacturers, Turner said: "We had a need for income to be able to promote local authority building control in a competitive market."
He added: "There needed to be income from somewhere. It wasn't provided by government, and it certainly wasn't provided by local authorities. And so this was one of many methods by which some form of income could be generated in order to promote those services."
But he denied that the sponsorship involvement with Kingspan impacted LABC's response to the letters warning about the K15 certificate, telling Grange: "I didn't tie the two together."
The inquiry continues.