Practice's £32m project will see 1970s mixed-use block remodelled and extended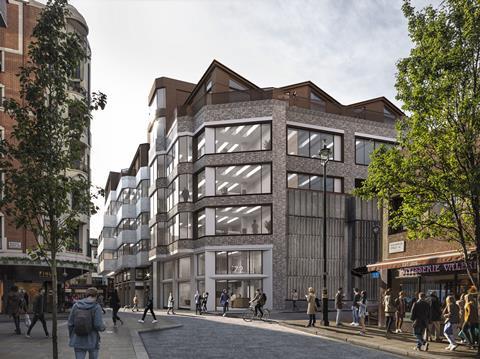 Buckley Gray Yeoman-designed proposals to revamp to a 1970s building in the heart of London's Soho have won planning permission from Westminster city council.
Under the £32m scheme, the fifth and sixth storeys of 72 Broadwick Street are set to be demolished and rebuilt, with the building being given a new bronze-coloured roof profile.
The job will also see new retail space added to the building's Carnaby Street frontage, while a two-storey extension will also be added to a UKPN substation that is part of the structure.
The rest of the existing six-storey building will be refurbished, with brickwork set to be recoloured, and a general upgrade given to the existing gym, offices and shops. Four new apartments will also be included in the scheme, bringing the number of homes to 15.
Work will be carried out in phases from September, with completion for client Shaftesbury due in 2021.