Practice says £240m Northants facility is biggest redesign of prisons since Victorian era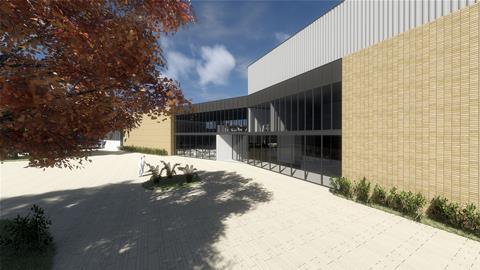 Bryden Wood has suggested that its under-construction HMP Wellingborough jail in Northamptonshire could be a blueprint for prime minister Boris Johnson's just-announced expansion of prison places.
Over the weekend Johnson said he was backing the spending of an additional £2.5bn to deliver 10,000 additional prison places and underpin a new era of tougher sentencing in a bid to take more dangerous offenders off the streets and rehabilitate them.
Bryden Wood said HMP Wellingborough, which is due to open in 2021 and is part of a £1.2bn Ministry of Justice programme, would maximise the rehabilitation of its inmates and seek to "break the cycle of reoffending".
It said the design, which removes bars from cell windows by the use of tougher glass and which adopts a Scandinavian approach to rehabilitation and institutionalisation, represented "the biggest redesign of prisons since the Victorian era".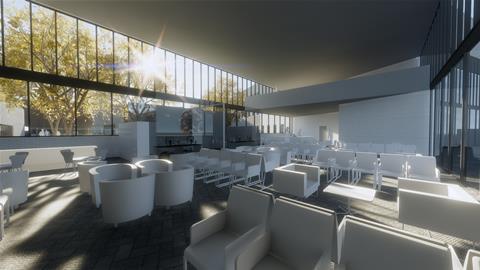 Bryden Wood said it worked with prison governors, staff, inmates and their families, support groups as well as academics on the design of HMP Wellingborough in a bid to reduce the potential for violence.
It said the resulting layout promoted positive behaviour at the same time as maintaining high levels of security.
The design removes Victorian-style gallery blocks with a warden's desk at one end in favour of a central staff station that encourages interaction between staff and prisoners.
Its blocks will have 20-person spurs with courtyard spaces, offering prisoners opportunities to learn gardening and other skills.
Other features include both indoor and outdoor space for visits with family and central hubs to provide education, vocational training, social facilities and spaces for religious activity.
Bryden Wood director and head of global systems Jaimie Johnston said the practice had used the latest technology to try and break the cycle of reoffending and promote rehabilitation.
"Our philosophy is to take an evidence-based approach to prison design and help bring prisoners out of a cycle of re-offending," he said.
"This not only cuts costs for taxpayers but also delivers a wider benefit in terms of safety and security to society as a whole."
A RIBA-backed report published in 2017 suggested that the rehabilitation of offenders could be improved by better design in the next generation of prisons. Wellbeing in Prison Design was written by Matter Architecture co-founder Roland Karthaus with environmental psychologist Lily Bernheimer and prison experts in consultation with the Ministry of Justice prison estate transformation programme.