Architect sees operating profit up nearly 10%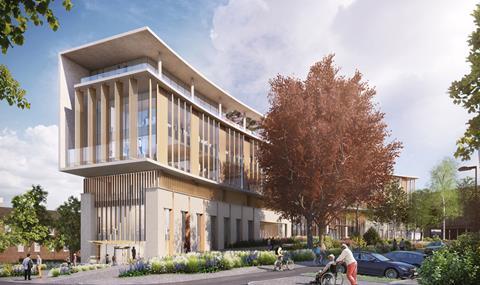 BDP has announced turnover of £106.8m, the highest figure in the architect's 58-year history.
The firm also posted pre-tax profit for the year to the end of June 2019 of £9.3m, up nearly 6%.
Operating profit came in at £9.5m, up just over 9%.
BDP, which last week got the go-ahead for its plans for a major new treatment and research facility at the Royal Marsden Hospital in Sutton (pictured), said it had seen "significant growth at home and abroad" in the past year.
It opened a new studio in Singapore in May last year and in February this year bought Toronto-based practice Quadrangle Architects.
Employing more than 1,300 staff, up from 922 last year mostly because of the Toronto deal, BDP said it was aiming to generate approximately 70% of its turnover from its UK operations in the next three years.
The firm's Rotterdam studio saw the appointment of architect director Björn Bleumink to lead its operations, a move it said would contribute to the growth of the practice in the Netherlands and across northern Europe.
Speaking about BDP's record-breaking year, chief executive John McManus said: "We set ourselves some pretty ambitious goals at the beginning of the year, particularly in relation to our geographic reach, and we have achieved those and so much more.
"Our growing international network of studios aligned with our established UK locations ensures that BDP will become increasingly influential in a global marketplace."