Building safety and homebuilding receive funding boosts
As part of yesterday's Spending Review, chancellor Rishi Sunak promised to invest in UK infrastructure in order to help stimulate the recovery from covid-19.
Promises included increased commitments for housebuilding, delivering on net zero and the revelation of a new UK infrastructure bank, as well as details about the government's school and hospital building programme.
At the same time the government promised a design champion for every major infrastructure project.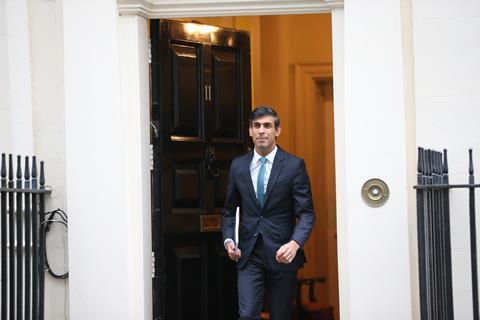 Here are some of the key takeaways that will affect the construction sector.
Building safety funding programme
The Spending Review also provides an additional £30m to help deliver the new building safety regime, taking resource funding to at least £70m in 2021-22. This includes funding for a new building safety regulator to oversee a more stringent regime for higher-risk buildings. It also reconfirmed £1.6bn to help finance the removal of unsafe cladding from high rise buildings.
£12bn 'Green Industrial Revolution'
Sunak also formalised details of the full £12bn green industrial revolution that incorporates Boris Johnson's 10-step plan to achieving Net Zero by 2050, which he unveiled last week. While most of this funding was already known it was reaffirmed that this includes £1.9bn for electric charging infrastructure and consumer incentives and £1.1bn to make homes and buildings net zero-ready. It also includes £1bn for a carbon capture and storage infrastructure fund, and additional investment in low hydrogen carbon production, offshore wind and nuclear power
National Homebuilding Fund
The National Home Building Fund, which will have initial funding of £7.1bn over the next four years, is aiming to help unlock the development of up to 860,000 homes. It includes £4.8bn of capital grant funding, including for land remediation, infrastructure investment, and land assembly, delivery of the brownfield fund, which was promised in last year's budget, and an additional £100m for non-mayoral combined authorities in 2021-22 to support housing delivery and regeneration. The fund also includes £2.2bn of new loan finance to support housebuilders across the country. Further funding for the NHBF will be confirmed at the next multi-year spending review.
Promise to build 500 schools and 40 new hospitals
The government has once again reaffirmed its commitment to build or rebuild 500 schools across the UK in the next five years. Earlier this year it promised this would be done with a focus on modern methods of construction, however the spending review did not provide significant information on the funding or timeline of this project.
The review did reveal additional details about the government's health infrastructure programme, which promises to build 40 new hospitals over the next decade. While funding did not increase from the £3.7bn promised earlier this year, a figure that was slammed for being just a tenth of what was required, the government did reveal how it would be spent. It said £600m would be spent in 2021-22, with £600m, £900m and £1.7bn being spent in each of the three subsequent years respectively. The government did also confirm £1.7bn of funding until 2024-25 to upgrade and improve existing health infrastructure.
£4bn levelling-up fund
Moving away from a fragmented landscape with multiple funding streams, this new cross-departmental fund for England will invest in a broad range of high value local projects up to £20m, or more by exception, including bypasses and other local road schemes, bus lanes, railway station upgrades, regenerating eyesores, upgrading town centres and community infrastructure, and local arts and culture.
It will be open to all local areas in England and prioritise bids to drive growth and regeneration in places in need, those facing particular challenges and areas that have received less government investment in recent years. The review makes available up to £600m in 2021-22.
New UK infrastructure bank
The new facility, which will be headquartered in the north of England, will come into operation from this coming spring. Given the end of the UK's transition period to its exit with the EU there had been concerns around whether the UK would still have access to the European Infrastructure Bank, which helps bankroll a huge number of UK infrastructure projects. The UK version has been set up to help meet that need.
Other promises:
Planning reform: The spending review also provides an additional £12m to help take forward the government's radical planning reform agenda, which it is looking to implement despite delays and a potential U-turn on its controversial housing formula.
Oxford-Cambridge Arc: The government is promising £4m towards its ongoing Oxford-Cambridge Arc programme, building on the government's commitments to accelerate housing and infrastructure delivery in the region.
Apprenticeship levy: From August 2021, employers who pay the apprenticeship levy will be able to transfer unspent levy funds in bulk to SMEs with a new pledge function. Unspent levy funds will still expire after 24 months. The government will also introduce, from August 2021, a new online service to match levy payers with SMEs that share their business priorities. It also said from April 2021 employers in construction, followed by health and social care, will be allowed to front-load training for certain apprenticeship standards. The government will explore whether this offer can also be made available in other sectors.