Juliet Blaxland's favourite watering hole provides unexpected architectural drama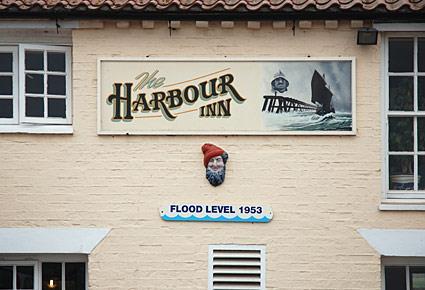 The Harbour Inn, Southwold, Suffolk, IP18 6TA
Juliet Blaxland said: "The Harbour Inn is on the Southwold side of the River Blyth, overlooking the working harbour, the marshes and Walberswick. It serves seaworthy fish and chips, using fish from adjacent boats with chips no doubt from some Suffolk sod barely a stone's throw distant, and Adnams Brewery is on the doorstep. This means the wine-buying is as reliable as the supply of famous beers.
The silhouette of the water tower provides a little unexpected architectural drama against the wide skies, and when architects cite traditional tarred fishermen's huts as their inspiration, this harbour is likely to be their original source.
In winter, the wood-burning stoves and quirky maritime photographs make the inside of this pub feel very cosy, animated and civilised (the back bar even bans children), while in summer the space outside provides the best sunset-viewing spot in Suffolk. There is a poignant ever-present reminder of the fatal 1953 flood level on the front wall, and a new flood defence confirms that this is a genuinely vulnerable landscape. As its website helpfully points out, this lovely pub sometimes finds itself actually IN the River Blyth, but there is no better place than this…"
To nominate your favourite pub email cate.sthill@ubm.com with a short description and exterior/interior photographs.
Postscript
What makes a perfect pub? Is it authenticity, solid reliable food, or beer that arrives in a straight glass? Or, are the best pubs those that haven't been horribly altered and where there's no Sky Sports? Pubs come in many guises and to celebrate the best, we're asking architects to nominate their favourite.