Future workload expectations jumped in May despite fears the UK economy is heading for a recession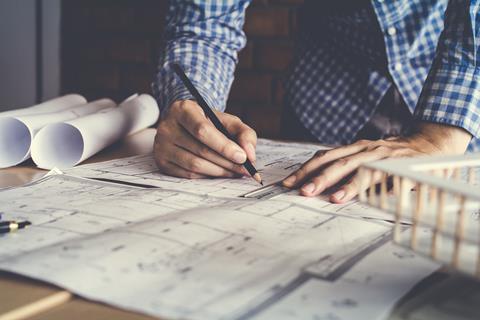 Architects have reported an unexpected surge in confidence despite wider fears that the UK economy is about to tip over into a recession.
RIBA's latest Future Trends survey found expectations of future workloads jumped by an index figure of eight points last month, reversing a trend of declining optimism seen since February.
It comes after the ONS said the UK economy shrank for two months in a row for the first time since the start of the covid pandemic.
The economy contracted by 0.1 % in March and then by a worse than expected 0.3% in April, with CBI director-general Tony Danker warning the economy is likely to be "stagnant" in the months ahead. A recession is defined as contraction in two consecutive three-month periods.
The increase in confidence reported by practices in May is a significant recovery from April's survey, which returned the sharpest decline in workload expectations since the early days of the pandemic.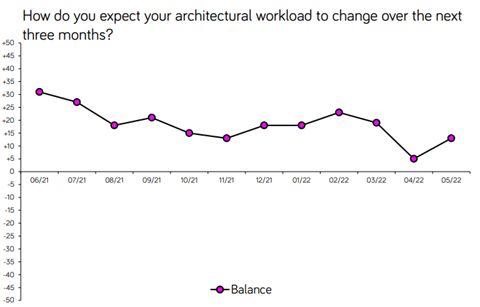 Last month's survey found 29% of practices now expect workloads to increase, compared to 23% in April, while 16% expect them to decrease and 56% expect them to remain the same.
Confidence is also back in London, which rose to a balance figure of +22 in May after three months of declining optimism.
The mood appeared to be getting brighter across most of the UK, with the Midlands and East Anglia being the only region which saw confidence slump.
The survey found that Wales and the West and the North of England are still the most upbeat about future workloads, while the South of England is back on its feet after reporting a wobble in confidence last month.
Practices are also keen to recruit, with the index figure for permanent staffing expectations up by one point last month following a four point drop in April.
But RIBA head of economic research and analysis Adrian Malleson warned that while optimism appears to be returning, it comes against a backdrop of continued economic uncertainty and deteriorating growth forecasts.
He said: "Practices remain resilient, but the profession continues to face headwinds, and we can expect the coming months to be challenging for architects, the construction industry, and the wider economy."
Malleson added that some practices had reported enquiries failing to translate into appointments and projects being cancelled as worsening cost inflation gives clients cold feet.
He said delays in the planning process were also putting brakes on schemes, particularly in protected sites.
The Bank of England said last month that the UK faces a "sharp economic slowdown" and forecasted that inflation could top 10% by the end of this year. Minutes from a meeting of the bank's monetary policy committee yesterday showed the bank expects the economy to shrink 0.3% between April and June this year.