Workmen destroy feature days before Historic England listing inspection
Architects and campaign group Save Britain's Heritage have reacted with fury after an ornate pendant ceiling forming part of a historic Bristol building was demolished in an apparent bid to avoid listing by Historic England.
It said the ceiling's destruction, undertaken as part of the redevelopment of a building in Small Street, was a "tragic example" of Britain's listed building system failing to protect structures under consideration for protection.
The four-storey former pub, described as an "unlisted building of merit" in the City and Queen Square Conservation Area, is the subject of a still-to-be-determined planning application to convert it into student flats with a restaurant/café unit remaining at ground-floor level.
A design and access statement submitted with the application, created for developer Joe Baio's Midas Properties by Bath-based BBA Architects, said the exterior of the building would be unaltered by the work, meaning there would be no impact on the conservation area.
However, Save said that shortly after Bristol's Conservation Advisory Panel had applied for the building to be spot-listed last month, the ceiling – which was the building's main feature of significance – had been demolished.
There is no suggestion that the building's owners acted illegally, but Save executive president Marcus Binney called on culture secretary Karen Bradley to close the loophole that allows developers to carry out work on properties that are under consideration for listing.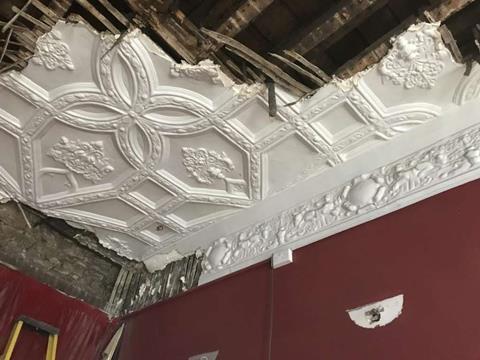 "Bristol today is largely a great Georgian and Victorian city, but it was a great medieval and 17th-century city too and survivals of the quality of the Jacobean ceiling at 15 Small Street should certainly be protected," he said
"All possible means should be used to make the owners reconstruct it.
"Just as Michael Heseltine reacted with fury to the pre-emptive demolition of the Firestone Factory over a bank holiday weekend, so Karen Bradley must respond decisively and ensure that the notice of a potential spotlisting should not allow a prosecution-free window to mutilate or destroy important historic buildings which are being assessed for listing."
Historic England said it was "saddened" by the ceiling's destruction.
"We understand a significant amount of the elaborate Jacobean ceiling was deliberately removed and destroyed before we were able to see inside the building," it said.
"We are continuing with the listing assessment but are saddened that this important 400-year-old feature has been lost for future generations."
Architect George Ferguson, who was elected mayor of Bristol from 2012-16 retweeted pictures of the destroyed ceiling with the comment "#Philistines".
Construction company Midas Group, which has an office in Bristol, issued a statement stressing it was not involved with the Small Street development and that it was a separate entity to GE Midas Properties.
Companies House gives Midas Properties the full name of Midas G&E Properties, and names directors as Giuseppe Baio and Elaine Baio. Its registered address is in the Bristol suburb of Clifton.