Pushkin House pavilion of poetry and exile will mark centenary of Russian revolution
Alexander Brodsky is designing a pavilion in London to coincide with the centenary of the Russian revolution.
It is the Russian architect and artist's first London pavilion and will be erected in Bloomsbury Square next month using a prefabricated steel frame and clad in roofing felt and wooden batons.
Brodsky was commissioned by Pushkin House, the UK's oldest independent Russian cultural centre, and is working with Robin Partington as executive architect.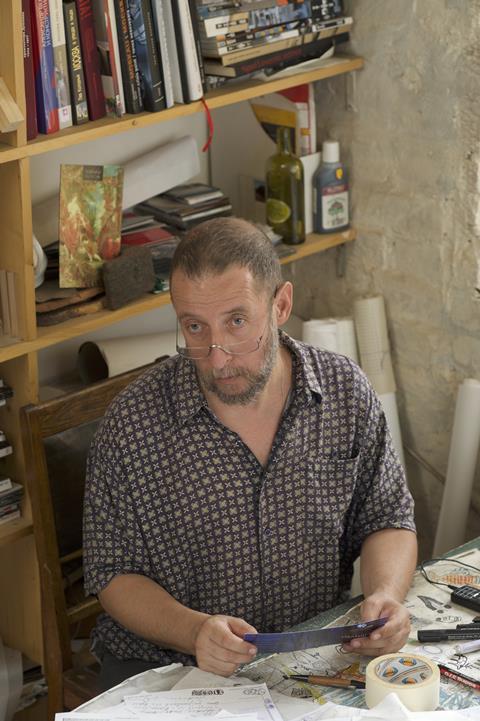 Clementine Cecil, director of Pushkin House, was previously director of Save Britain's Heritage and co-founder of the Moscow Architectural Preservation Society. She said Brodsky's pavilion could be the first of an annual series of commissions.
The pavilion is titled "101km", which refers to the distance that poets and others were forced to stay away from major cities, often after returning from the labour camps – a kind of internal exile and attempt by the authorities to suppress them. The pavilion creates a refuge for these voices, which passers-by are invited to enter and experience.
The second part of the title, "Further and everywhere", refers to the poetic and mysterious announcement heard on local trains leaving from Moscow, referring to calling points after the centre of the city but conjuring up the vast expanses of Russia, and the rest of the world beyond, said Cecil.
The interior of the pavilion will be hung with poems written in exile or addressing the condition. Video and audio installations evoke associations with a train carriage with an unknown destination.
The project - which will include a programme of related cultural events hosted next door at Pushkin House - is being curated by Markus Lähteenmäki, a fellow of the Institute for the History and Theory of Architecture at ETH Zurich who has taught at the Cass, Central Saint Martins and the RCA.
Cecil said: "This October is the centenary of the Russian revolution, that led to the creation of Pushkin House as a place of refuge for Russians living in Britain who wished to maintain a connection to their culture.
"This pavilion is a celebration of the individual voice against all odds and it is a great honour to be working with Alexander Brodsky, one of the most important artists and architects in Russia today.
"With this pavilion, Pushkin House is coming out on to the street and engaging with a wider public. We believe that culture is the most profound and direct way for different nations to engage with each other and foster mutual understanding."