Practice made a loss of more than £600,000 last year as covid ravaged workloads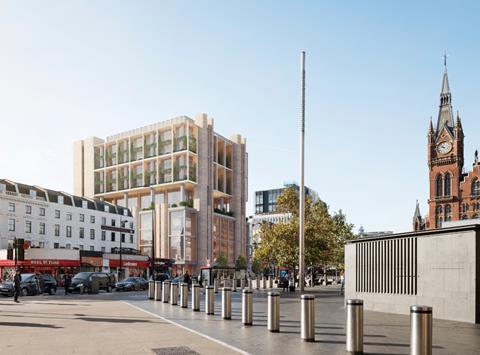 Allford Hall Monaghan Morris (AHMM) made a loss of over £600,000 and saw its revenue plunge by 22% in the first year of the pandemic.
The architect's latest accounts said the 12 months to the end of March 2021 had been a "challenging year" as the impact of covid-19 ate into workloads.
The report said the virus had hit the practice on two fronts, reducing on-site working during the early part of the accounting period and resulting in a slowdown in new projects caused by "planning and financing uncertainties".
Gross margins were placed under "considerable pressure", dropping from 52% in 2020 to 43% in 2021 and generating an operating loss of £587,000. In 2020, the practice raked in a profit of more than £6m.
The accounts admitted that turnover had seen a "significant decrease" from £55.3m in 2020 to £43.3m in 2021, reverting to fee levels similar to the year ending March 2019, while gross profit also dived from £29m to £18.7m.
But the firm's headcount remained stable, with the average number of staff dropping by just two from 488 to 486 during the period.
The accounts said that the actual number of full time equivalent staff dropped by 6% to 467, although there were 503 staff on payroll at the end of the accounting period in March 2021 despite sales per employee falling by nearly a quarter, from £113,000 to £89,000.
The accounts also reveal AHMM claimed £278,000 from the government's furlough scheme.
The highest-paid director for the period received £434,761 last year, virtually no change on the year before.
Projects completed by the practice during the period despite the disruption caused by covid include 2 New Bailey Square in Salford, an office block, in November.
The Vincent later-living residential scheme in Bristol opened its doors to residents, while east London's Lorimer House became the first phase of the Bream Street scheme to complete.
The studio also completed a number of projects in Oklahoma, including a residential development in Oklahoma City called the Bower and a mixed-use scheme known as Classen 16.
Major planning consents included Lansdowne House, an office scheme on London's Berkeley Square, and the £1bn Belgrove House laboratory and office block in King's Cross for pharmaceutical giant Merck.