High street landmarks disappearing at an 'astonishing rate' in the wake of the pandemic, report highlights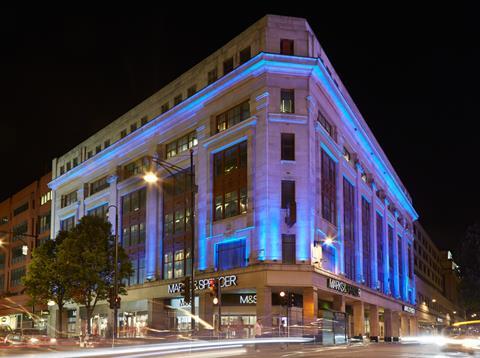 Department store buildings could suffer the same loss of relevance as stately homes and churches unless action is taken to save them, Save Britain's Heritage has warned.
Some of the finest and most socially significant buildings on British high streets are disappearing at an alarming rate because of the impact of the covid pandemic on shopping habits, the campaign group said in a new report.
Titled "Departing Stores: Emporia at risk", it is the latest in a series of studies carried out by the group on endangered building types, which have included cinemas, pubs and asylums.
It comes following a wave of departmental store closures brought on by successive lockdowns and social distancing measures during the pandemic which saw the popularity of online shopping soar.
While the root causes of the decline of department stores started in the 1970s and 80s, the report said that the past year has seen "empires topple like dominoes", with the collapse of Both Debenhams and Beales. John Lewis also closed 17 of its stores during the pandemic, while House of Fraser has shuttered dozens since 2018.
Some 237 department store buildings were listed as vacant last summer despite emergency government schemes such as the business rates relief and commercial rent moratorium.
Save Britain's Heritage said the buildings, often designed to impress and inspire, are not only of "great architectural merit" but are deeply connected with personal and local histories.
"As these hubs of daily life are erased from the map, local communities feel increasingly disenfranchised", the report's author Harriet Lloyd said.
"Protecting and reviving these buildings is not only a matter of preserving precious and distinctive architecture; it is an opportunity to restore a sense of place."
Root causes of the decline of department stores since the 1970s
Poor town planning decisions
Hikes in parking charges
Rise of large out-of-town shopping centres
Increasing town centre rents
Business rates linked to property values
Higher costs forcing stores to raise prices
Rise of online shopping
Covid-19 pandemic and associated social distancing measures
Save's executive president Marcus Binney added: "What is astonishing is the speed with which these handsome and dominating buildings, the pride of cities and prosperous towns, have been closing."
Binney said the race is now on to identify and assess these "proud" and "grandly proportioned" buildings before developers either convert them to residential use or raze them to the ground.
One lifeline could be reinvention as museums or art galleries, according to Lloyd. In Seoul, South Korea, three department stores have launched in-house galleries.
In early 2021, Labour councillors in Westminster proposed reviving Debenhams' Oxford Street flagship as an "Art House", with exhibition space, affordable studios, and a shop selling artists' hand-crafted wares.
"If these buildings are to remain accessible and amenable to local communities, they require bold, imaginative ideas such as these", Lloyd said.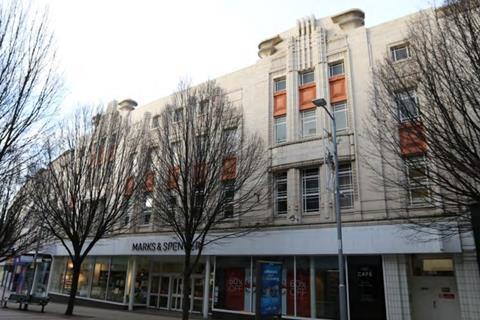 A series of major department store redevelopment schemes have been approved for planning over the past year.
In November, PDP was given the green light for a mixed-use extension and refurbishment of House of Fraser's flagship Oxford Street store.
The same month saw Squire & Partners lodge plans to demolish Guildford's 1960s Debenhams store and replace it with flats and retail space, while AHMM's plans to overhaul Debenhams' Oxford Street store with a new facade and three new storeys were approved in October.
Pilbrow & Partners plans to demolish M&S' flagship Oxford Street store and replace it with a 10-storey office scheme were backed by London mayor Sadiq Khan last week. However, Khan is now looking again at the application following a backlash led by the Greater London Authority's climate adviser Simon Sturgis, who criticised the carbon impact of the demolition.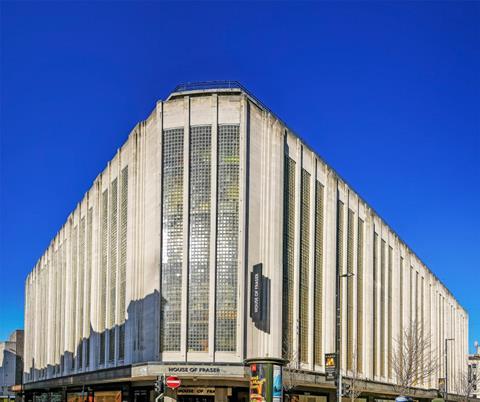 Sheppard Robson's proposals to transform House of Fraser's 1940 Manchester store, known as Kendals, into office and retail space were also given the go-ahead in June last year. The scheme would see the art deco facade's highly-recognisable glass bricks removed and replaced with modern glass windows.
A conversion of another art deco landmark, Nottingham's 1937 former Woolworths store, into student accomodation with ground floor retail has also been given consent.
Meanwhile, KPF's £235m redevelopment of House of Fraser's Victoria store, approved last May, is moving forward following Skanska's appointment to the main construction contract last month.
The store, which has traded on the site for 150 years, will be demolished and replaced with a 16-storey office block with ground floor retail space.