Designs by Hopkins, BDP, Fitch, RMJM and council architects are protected
Twelve post-war schools by architects including Patty Hopkins, BDP, RMJM and local authority in-house teams including Colin Stansfield Smith's have been added to Historic England's roll of architectural honour.
The Department for Digital, Culture, Media and Sport today confirmed Hopkins Architects' Fleet Velmead Infants School in Hampshire, BDP's Archbishop Temple School in Lancashire, and Fitch & Company's Vanessa Nursery School in west London would be joining the ranks of 50 other schools built since 1945 that were granted grade II status last year
Also winning grade II status are Kennington Primary School in Preston, by Lancashire County Council Architects' Department; RMJM's St Olave's Grammar School in Orpington, Kent; Wreake Valley Academy, in Leicester, by Gollins, Melvin, Ward & Partners; and the secondary school building at the German School in Richmond, by German practice Kersten, Martinoff and Struhk.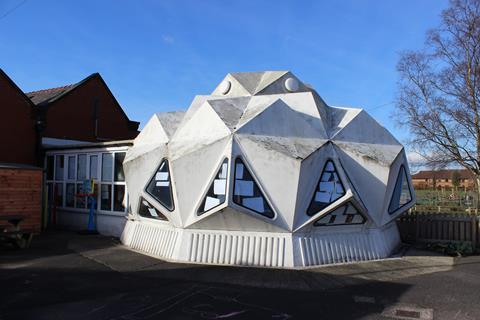 Another addition to the list is Sprites Primary Academy in Ipswich, by Johns, Slater and Haward. The building – one of 44 primary schools designed by the practice for the town – features a hyperbolic paraboloid timber roof.
Historic England chief executive Duncan Wilson said post-war Britain was an innovative period in school design with demand driven by the baby boom, the raising of the school leaving age, planned new towns and estates, and the reconstruction of bomb-damaged buildings.
"We are pleased to have these impressive and diverse designs join the list, as they express imaginatively the new approaches to education in the post-war period," he said.
"Careful and innovative use of materials distinguish the buildings and reflect the investment at the time."
Historic England said that in considering schools for the latest tranche of listing, it had looked at how well structures demonstrated innovative architectural design, construction, materials and artistic interest – and the way designs reflected changes in educational thinking of the period.
In addition to private practices, the work of local authority in-house teams was also saluted. As well as Roger Booth's Lancashire team responsible for Kennington Primary School, two "barn schools" designed by Hampshire County Council Architects' Department under Sir Colin Stansfield Smith won listed status, as did schools by Leicestershire County Council and West Suffolk County Council teams.