£15m student tower would be city's second-tallest building
David Cox Architects has drawn up proposals for a 20-storey student-housing development in Preston that would be the city's second-tallest structure.
The local practice was appointed to create the development, named LoftHaus, by developer ASSH Investments.
It is earmarked for a site in Great Shaw Street, close to the University of Central Lancashire campus, and would provide more than 300 rooms, ranging from studio accommodation to deluxe apartments.
The current building on the plot, Foresters' Hall, provides 27 student rooms, which the developer said had become "outdated and inefficient".
David Cox said his practice's 72-metre tall structure – which would be second only in height to the Church of St Walburge – would "enliven" Preston's skyline and act as a statement on the city's confidence for the future.
"While Preston's skyline has a recognisable profile and presence from afar, its tall buildings have an air of tiredness and their roofscapes are cluttered and unattractive," he said.
"The addition of a new 21st-century profile to the cluster of tall buildings will enliven the skyline and play a part in Preston's emerging confidence and future.
"We have been working on LoftHaus for over a year and it's great to finally be submitting our planning application."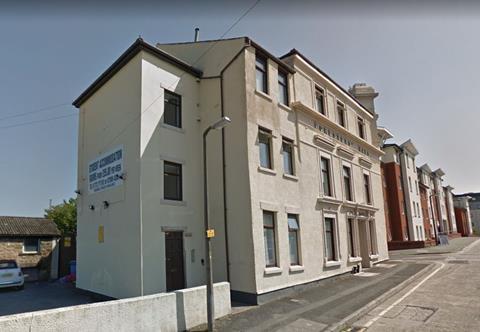 Cox added that the city had one of the lowest levels of purpose-built student accommodation in proportion to its student population, and that the development would go some way to addressing the balance.
Great Shaw Street is around 300 metres from BDP's grade II-listed brutalist Preston Bus Station.
Elsewhere in the Preston, David Cox Architects has a six-storey student accommodation scheme in for planning which would deliver 425 self-contained studio rooms and a statue of the Star Wars character R2-D2, in honour of the late Preston actor Kenny Baker who played the robot in the series' first three films.