Pedestrian and cycle link connects Gasholder Gardens with Camley Street Nature Reserve
Moxon Architects has completed a new pedestrian bridge spanning the Regents Canal in north London and connecting part of the new King's Cross Central development with a nearby nature reserve and existing neighbourhoods.
The 38m steel-plate structure, created in partnership with engineer Arup for client Argent, has a deck that is just 15mm thick and structural support above deck-level to maximise views for boats using the canal below.
It is located within the Regent's Canal Conservation Area, and surrounded by several listed structures including the St Pancras Water Tower and the neighbourhood's gasholders.
Moxon managing director Ben Addy said the form of the bridge precisely matched its bending moment, making it a direct demonstration of where steel was required in the beam and a "lean" design in a material sense.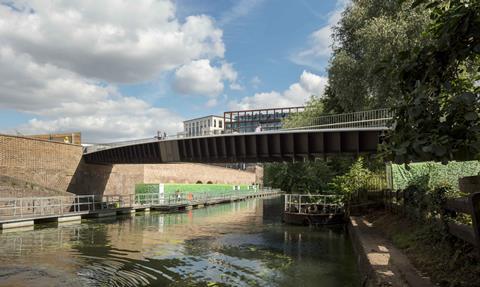 "The ambition for this bridge has been to achieve 'extreme simplicity' in terms of form and material use," he said.
"It is a considered and beautiful addition to the location but, even more than this, we have developed a design that is as emphatically and enjoyably practical as its Victorian neighbours."
The bridge links King's Cross Central's Gasholder Gardens neighbourhood – which features Wilkinson Eyre's Gasholder apartments and Bell Phillips Architects' Gasholder Park – with Camley Street Nature Reserve and the long-established Somers Town neighbourhood further west.