Plan would retain façades of art deco Wardour Street buildings in former film-industry heartland
MoreySmith-designed proposals to create a 174-bedroom hotel by redeveloping a corner site on one of the most famous streets in central London's Soho district have won planning permission from Westminster council.
The scheme, drawn up for site owner Richard Sutton, would retain the art deco façade of 1930s Film House at the junction of Wardour Street and Sheraton Street, and that of its Wardour Street neighbour Mentorn House.
But the remainder of the buildings, which sit in the Soho conservation area, would go and another structure – 20 St Anne's Court – would be fully demolished.
In their place, MoreySmith would deliver a new seven-storey building on the 0.25ha site, featuring ground-floor and roof-top restaurants and two new courtyards.
MoreySmith said that while inter-war Film House, former headquarters of Associated British Pathé, and Mentorn House made a positive contribution to the conservation area, their upper storeys were of low architectural quality and detracted from the overall art deco appearance of the buildings.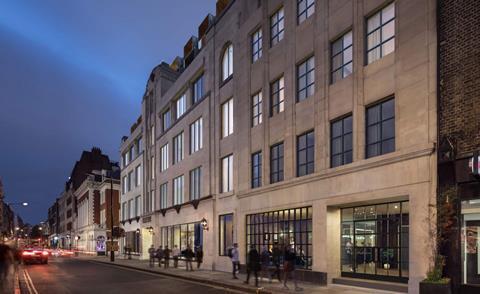 It added that the red-brick St Anne's Court building had a "bland" front elevation and made neutral contribution to the conservation area.
Government heritage adviser Historic England saluted the retention of the facades of Film House and Mentorn House, but expressed concerns about the "exceptionally prominent" height and pitch of the replacement roof, and the loss of glazing bars from the proposed new windows.
The Soho Society objected, arguing that the scale of the development would impact negatively on local businesses and residents, and represented an over-intensification of the site. It also complained about the loss of more than 11,000sq m of office space that the scheme would entail.
Recommending the proposals for approval, Westminster planners said they considered swapping the building's current office use for hotel space was acceptable, and that the hotel scheme would not have an adverse impact on neighbouring residents.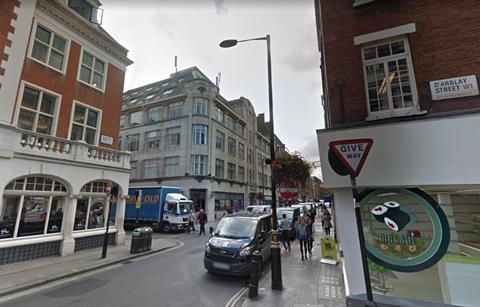 They said MoreySmith had made changes to the windows proposed for the scheme in the light of Historic England's observations, but insisted that the new roof proposed for the development was fine.
"While there are changes to the roofline of the building, they are not harmful to the appearance of the retained facades, and the appearance of Wardour Street would be preserved," officers said.
"Similarly, the views from Soho Square, along Carlisle Street, will be altered by the greater height of the building but the change will not detract from the focal point created by the Nadler Hotel."
Councillors approved the proposals at their meeting on March 27.