Councillors approve designs for reworked dual-performance space venue
Architect Mecanoo has won planning permission for its rejigged proposals to deliver a new incarnation of Oldham Coliseum.
The town's existing Coliseum Theatre dates back to 1887 and counts Charlie Chaplin among the celebrities who have trodden its boards.
Mecanoo originally submitted proposals for a state-of-the-art replacement on a different site in late 2014. That scheme would have linked the theatre to the town's grade II-listed former library and art gallery. But theatre bosses and Oldham council decided the proposals needed extra work.
The latest £30m version of the theatre includes a 550-seat auditorium and a 170-seat studio theatre – significantly up from the previous scheme's 110-seat second space, and improved front-of-house facilities including a café bar and outdoor terrace.
But it is not linked to the neighbouring building, which now has planning permission for conversion into a heritage centre, under a separate Mecanoo-designed scheme.
Council leader Jean Stretton said the theatre and neighbouring heritage centre would form part of a new cultural quarter that also included a gallery and a library.
"The Coliseum will be a central part of our ambitious new cultural quarter and will put Oldham firmly on the map as a cultural destination, attracting new visitors to the town," she said.
"The Coliseum is deeply rooted in Oldham's history and I'm delighted that we can get on with this project and create something special for future generations of theatre-goers."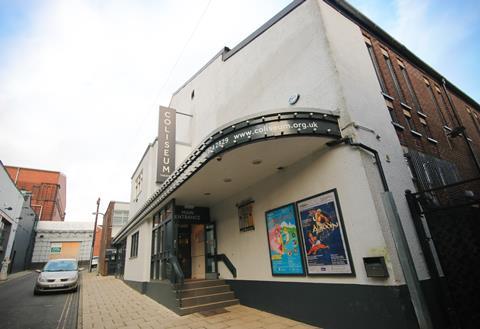 Mecanoo said its latest design took inspiration from Oldham's rich industrial heritage and sought to capture the '"spirit of the Coliseum" in a new facility that allowed the theatre to broaden its offer with more experimental performances, an expanded educational programme and by facilitating new collaborative arts projects.
"The facades contrast the colour and texture of anodised aluminium and bricks in a recessed special brick bond to reference original Oldham cotton patterns," it said.
"Inside a series of key spaces that each have their own distinct identity, continue the intimate and cosy atmosphere of the existing Coliseum within much larger spaces."
Work is expected to start on-site in early 2018 for completion in 2020.