Stride Treglown chair Pierre Wassenaar explains why his firm went through the process and has some advice for others thinking of following their example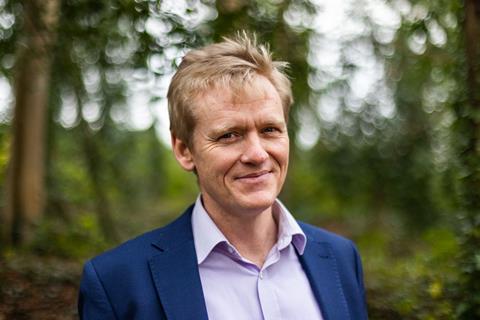 We became a B Corp in February 2021,one of only a handful of firms in the built environment sector to join a growing, purpose-driven community. It has been a rewarding and challenging process.
We have always prided ourselves on being ethical and responsible as a practice, looking after our staff and designing in a responsible, human-centric way. Since we became an employee-owned organisation, we had been looking for a tool that would help us to measure how we are doing socially and environmentally.
B Corp certification is a designation that a business is meeting high standards of verified performance, accountability, and transparency on factors from employee benefits and charitable giving to supply chain practices and input materials.
The B Corp movement is underpinned by the belief that society's most challenging problems cannot be solved by governments and non-profit organisations alone. By harnessing the power of business, B Corps use profits and growth to a greater end: positive impact for their employees, communities, and the environment.
For businesses considering certification, we first recommend filling in the free B impact assessment tool on the B Corporation website. If the results are at all encouraging, go for the full certification (it is a long process), and keep in mind our top five tips:
Create an internal working group to lead the process
Becoming a B Corp is not an easy undertaking. After the initial self-assessment, a more formal impact assessment is required. This includes the submission of detailed policies and demonstration of compliance against a set of 200 questions, from employee wellbeing to client care, community outreach and environmental impact. All of these are scrutinised by a B Lab assessor in the US.
The advice I would give is to make sure you involve a wide group of your senior staff to help put together the responses. Our HR director, finance director, managing director, head of sustainability and head of social value were all essential to the certification process and ongoing stewardship of each impact area.
Don't forget internal comms
I think one of the things we got wrong last year was powering ahead with the accreditation without taking enough time to embed the concept into the company. We used B Corp month (March) to focus discussions in all our offices to start us all thinking what the next steps might be.
Make data and measurement part of your processes
We are working on internal systems to measure our social value, particularly as it relates to work within the community. For example, how many hours are our staff volunteering, how are our school and university outreach programs performing, and where can we improve those?
With social value having such a wide influence across so many areas of the business it is important to be confident in what you are measuring and therefore achieving – and it is definitely not as binary as other measurement areas.
We have invested a great deal of time behind the scenes this year to ensure the data entry structure allows for the recording of all additional value provided.
We're also working with Insight6, a customer experience consultancy, to set up our engagement programme, which allows us to get detailed client feedback on the work that we do.
Use the B Corp network
One of the interesting aspects of B Corp has been the range of groups in the global community you can join. There is a built environment national sector group, that has brought us closer to companies such as Ward Williams, igloo Regeneration and FORE Partnership, and there are local groups, including ones in Bristol and Bath, Cornwall and Manchester.
It has also facilitated new relationships with other architects such as Dialog in the US and Hayball in Australia – it's an exciting ecosystem.
Keep going!
Being a B Corp is not a file and forget process whereby you complete a checklist and move on. For us, and many others it is the core of our business. So it is an ongoing, living, breathing framework, and an evolving set of standards that we as a firm agree to adhere to.
We are now into our second year as a B Corp and continue to focus on ways that we can improve our business across five impact areas: governance, workers, environment, customers and community.
Postscript
Pierre Wassenaar is chair of Stride Treglown