Architect David Bickle returns to Hawkins Brown because he missed designing
David Bickle, who quit as the V&A's director of FuturePlan to return to his former practice, says he left the museum after less than three years because he missed designing.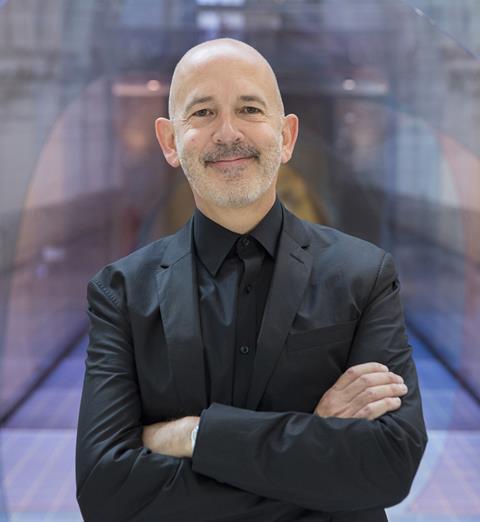 The architect, who was headhunted from Hawkins Brown in 2015, said: "I wanted to move back into architecture. I missed it enormously.
"I was designing vicariously at the V&A through others and through the conversations any good client gets involved in. But I was finding it more and more difficult to sit on my hands.
"As a client you have to ensure architects and designers are given the space to design and I recognised that but I also recognised the fact I was being more and more frustrated by not being able to do it myself."
He rejected the suggestion this made him an interfering client, saying he was always "fair, objective and helpful".
As an architect and external examiner with experience on design review panels and competitions juries, he said he had a "clear and direct way of giving feedback".
He also denied putting noses out of joint within the museum, although half a dozen people left the design department while he was at the helm.
"The way I wanted the studio to operate was slightly different from my predecessor and the way I wanted to build the team it was necessary to restructure it," he said.
"What I have left behind is a quite extraordinary team of 3D and 2D designers who are incredibly committed to the V&A, who are very progressive in their thinking and who will serve the museum in a creative and contemporary way," he said.
He praised the late Moira Gemmill, his predecessor, for setting "incredible foundations" with the FuturePlan programme that saw a string of young architects appointed to redesign different parts of the museum.
During his tenure he moved the focus from the fabric to the visitor experience, a change of emphasis he said was welcomed by curators and management alike.
"The V&A has always been part of my personal DNA and to work there was absolutely amazing," he said. "Working alongside curatorial colleagues was a real treat and I have learnt so much."
Bickle, who had been a partner at Hawkins Brown for more than 20 years, returned to the practice this week with a brief to take a lead on projects in the civic, creative and cultural sectors and to explore potential new areas of research and practice.
In the intervening years the practice has grown by about 100 staff and is a "very different place" from the firm he left, he said.
He will work across the London and Manchester studios and said he hoped to get involved in giving architects a voice on matters of policy, housing and social change, as well as using his knowledge of a major cultural institution to win work in the sector.
"I do have a valuable insight," he said. "Every museum has its own identity but I am in a great position to ask the right sort of questions and get the right response to develop a brief."
His credits at the V&A include overseeing the completion of Amanda Levete's Exhibition Road Quarter and Kengo Kuma's V&A in Dundee, hiring Carmody Groarke to create a members' room and Friend & Company to replace Eva Jiřičná's shop.
But the work he is proudest of is in Stratford, where he guided the development of V&A East – which has been designed by O'Donnell & Tuomey – and secured a £25m new home for the museum's collection currently in storage, which is being designed by Diller Scofidio & Renfro – in Hawkins Brown's Here East Olympic building.
"For it to be in London, accessible and open to everybody is a big achievement which will continue to have a big impact after I have shuffled off this planet," he said.