Mole Architects and Rebecca Granger bag RIBA's best small project gong
A "spectacular" nautical-themed seaside home conceived as two upturned boat hulls leaning together has picked up the 2017 Stephen Lawrence Prize.
The Houseboat, by Mole Architects' Meredith Bowles and executive architect Rebecca Granger, was designed to sit next to a grade II-listed modernist home in Poole, which is owned by the project's client, architect Roger Zogolovitch.
RIBA said the Houseboat was the culmination of many years of designing and collaborating, and had resulted in a "spectacular" home with "breath-taking spaces" facing the sea over Poole Harbour.
The judging panel, which included 2016 Stephen Lawrence Prize winner Taro Tsuruta, said the project was a "great expression of context-inspired concepts, experimentation and finely tuned craftsmanship".
They said the skill of Granger and Bowles had been a refusal to challenge the existing building – which is fitted out with second-hand salvaged joinery from ship lounges including transatlantic liner the RMS Mauretania – but to reinterpret it by inverting the "Boat House" into a "Houseboat".
"Its concept, inspired by its coastal context, flows seamlessly from aesthetics to experience," they said. "The prominent black stained timber larch exterior – built on a concrete base – clearly exemplifies two overturned hulls and echoes the sea to the front."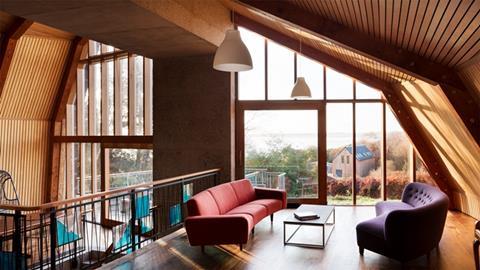 Judges praised the way the structure's curves "surprise and enhance" visitors' experience by indirectly appearing to be within a hull below deck, and its "meticulous detailing and crafting", such as the grooves of its MDF wall lining, to the copper glazing on the rear façade.
"Ultimately, the true joy of this house is one that can only be experienced," they said. "An appreciation is only achieved once fully immersed within the space."
The Stephen Lawrence Prize was set up in honour of would-be architect Stephen Lawrence who was brutally killed in a racially motivated attack in south London in 1993. It salutes projects with a value of less than £1m.
Prize founder Marco Goldschmied said the 2017 winner was a "welcome exception" in an age where "detail design and carefully crafted construction are all too often sacrificed to meet short-term deadlines".
In addition to Tsuruta and Goldschmied, judges included Stephen's mother Baroness Doreen Lawrence and RIBA Council member Stephanie Edwards.