Architect 'in early talks' about designing second South Korean facility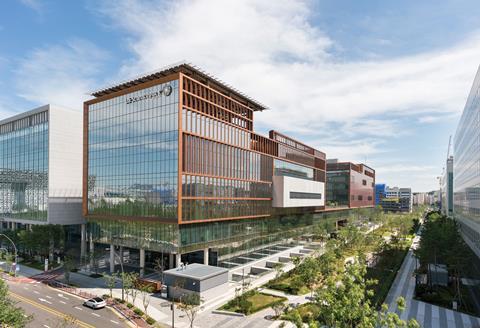 HOK is hoping to land more work designing research facilities in South Korea, just weeks after its scheme for electronics giant LG opened in Seoul.
The US practice is understood to be in early talks about designing a new research facility in the country following its work on the £2.7bn complex for LG, which has already seen 18,000 researchers move into 20 buildings at the complex since it opened in April.
The LG scheme was designed by HOK's London studio and will eventually see 25,000 people working out of 26 buildings when the remaining six buildings on the park are completed in 2022.
HOK declined to comment on who it was speaking to but the firm's design principal in London, Larry Malcic, said there was an increasing worldwide demand for this type of complex.
"The spaces, inside and out, are designed to foster a culture where people can interact and form new ideas," he added.
The LG facility runs across 1m sq m and brings together eight research divisions, including electronics and display technologies, into one location. The divisions were previously scattered in various locations around the country.
The complex also includes dining rooms, shops and gyms.
HOK is building up a track record on this kind of work, having designed the £650m Francis Crick Institute at London's St Pancras which opened in 2016. It is one of the biggest biomedical laboratories in Europe and brings together six research institutions including the Medical Research Council and the Wellcome Trust.