Sainsbury Centre to host exhibition on history of superstructures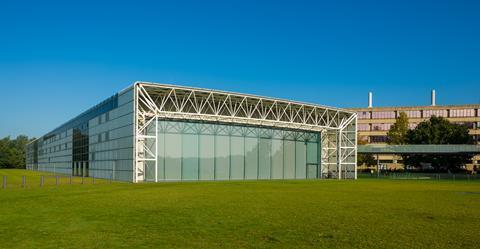 Models of the 20th century's most important high-tech buildings will go on display together for the first time to mark the 40th anniversary of Norman Foster's Sainsbury Centre in Norwich.
The exhibition, Superstructures, will be held in the grade II* building on the campus of Denys Lasdun's University of East Anglia.
A new three-metre-long model of the Sainsbury Centre for Visual Arts – Foster's first public building – will go on display for the first time alongside models loaned by various international collections.
These include the Reliance Controls Factory by Team 4 (Su Brumwell, Wendy Cheesman, Norman Foster and Richard Rogers); the Pompidou Centre by Rogers and Renzo Piano; Rogers' Lloyd's of London Building; Foster's Willis Faber Dumas office; Waterloo International by Nicholas Grimshaw and the Hopkins House by Michael and Patty Hopkins.
Using models, photographs, film, paintings and objects, the exhibition will tell the story of architecture's fascination with technology after the war which led to a new globally influential typology or superstructure.
It will show how high-tech emerged from a generation of largely British architects who were influenced by the ideas of late modernism, fascinated by structural engineering innovations and determined to apply the techniques of industrial production and assembly to buildings.
The exhibition will explore the seminal influence of figures such as Buckminster Fuller, Jean Prouvé, Charles and Ray Eames and Cedric Price.
Examples of "technology transfer" will show how techniques were adapted from the automotive, nautical, aerospace and information industries to create bold new materials and innovative industrial processes.
Lenders include the Centre Georges Pompidou, the RIBA, the V&A, the Canadian Centre for Architecture and the studios of Norman Foster, Richard Rogers and Nicholas Grimshaw.
The exhibition, which is curated by former Soane director Abraham Thomas and Jane Pavitt from Kingston University, will open in March.