Protesters fail to overturn consent for Hugh Broughton-designed plans
A High Cout bid to stop a Hugh Broughton Architects-designed shop and visitor centre being built into the mound of York's grade I-listed Clifford's Tower has failed.
The proposals, created for site operator Historic England, would have to dug into the 13th Century structure's motte to create a "quiet but appropriate" stone-fronted visitor centre, as well as a timber viewing structure inside the tower. They were granted consent by City of York Council last year.
But protesters led by independent councillor Johnny Hayes said the designs were "ugly beyond belief" and harmful to views of the tower and mound. Particular areas of concern were the impact the proposals would have on the site's archaeology, and the presentation of relevant data in the council officers' report on the scheme.
The judicial review sought to expose the weighing exercise of public benefit of the works to the harm they would cause a Scheduled Ancient Monument as "flawed", and have the consent set aside as wrong in law.
But in a decision handed down by High Court judge Mr Justice Tim Kerr, the challenge was refused.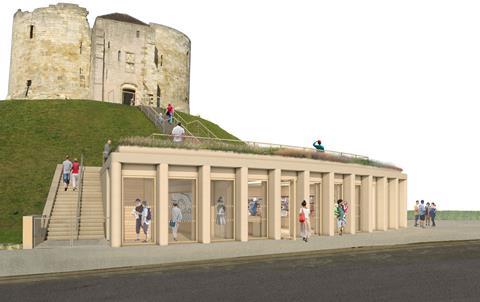 A statement from City of York Council said the decision made it clear that the authority had conducted the planning decision-making process lawfully in respect of the case.
"We were always confident that we followed everything we should have done at all stages of the planning application," a spokesman said.
The spokesman added that the Mr Justice Kerr had also given the protesters a reduced window of 14 days – rather than the usual 21 days – to apply to the Court of Appeal to challenge the decision.
Councillor Hayes said campaigners would continue to fight the visitor centre proposal.
"This verdict is a huge blow and we are very disappointed, but we now need to consider what our next steps should be," he said.
"We are listening carefully to our legal team's advice about where we go from here."