Council to consider club's request to acquire an interest in the scheme to enable the redevelopment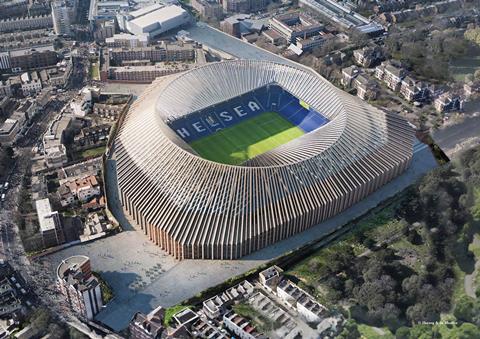 Chelsea Football Club has told Hammersmith & Fulham council that Herzog & de Meuron's plans for a new stadium are under threat from a "right to light" challenge by the owners of a neighbouring house.
The club, via its lawyer Eversheds Sutherland, has applied to the council to request it exercise statutory powers under a Section 227 which, if approved at a meeting on Monday, could see the council acquire part of the scheme in order to help fight off its objectors and push the scheme forward.
Lawyers Pinset Masons acting on behalf of the owners of a property on the other side of a railway line that runs between it and Chelsea's current stadium have gone to the High Court for an injunction against the project, primarily because the new East Stand would overshadow the property.
A letter to the council from the law firm included in the documents also moots a re-design "so as not to cause the interference", or a "cut-back" of the East Stand.
But John Finlayson, head of planning regeneration at Hammersmith & Fulham council, has recommended the council approve the acquisition of the land to enable the club, owned by billionaire Roman Abramovich, to proceed with the scheme because of to its "considerable public benefits".
He said in his report to the council that Chelsea believe it is "highly unlikely that a private agreement will be reached" over the right to light issue with the property's owners.
"Given the significant level of investment necessary, the club state that they will not be able to implement the development or secure any necessary development financing while there remains a risk that the existing injunctive proceedings might succeed," he added.
Pinset Masons said the owners of the property will "take all legal action available to them" if the council decides to acquire the land.
This latest challenge to the big spending Premier League club's redevelopment of Stamford Bridge into a 60,000-seater stadium follows an unsuccessful application for a judicial review of the council's approval of the plans last July after it was rubber-stamped by London mayor Sadiq Khan at the end of March.
Prior to planning approval, BD revealed in 2016 that Chelsea had been reprimanded by planners for failing to provide adequate detail on the protection of bats in nearby grade I-listed Brompton Cemetery.
The club subsequently proposed restricted lighting, noise-muffling hoardings and "toolbox talks" for builders on what to do if they encounter bats as some of the measures to protect the area's endangered mammals.
The stadium rebuild has been masterplanned by Lifschutz Davidson Sandilands.
Chelsea and Hammersmith & Fulham council have been contacted for comment.