Architect beat Diller Scofidio & Renfro, Serie and Studio Gang
Herzog & de Meuron has won planning for its post-graduate centre at the Royal College of Art's Battersea campus.
The building is part of a £108m investment programme in the RCA which the college is dubbing the most radical transformation of its campus in its 181-year history.
Work will begin on the site this spring and is scheduled to be completed in April 2020, with the new building opening to students for the 2020/21 academic year.
Herzog & de Meuron won the project in an international competition featuring Diller Scofidio & Renfro, Studio Gang, Swiss-based Christian Kerez, French practice Lacaton & Vassal and Belgian firm Robbrecht en Daem, along with the only Brit to be shortlisted, Serie, a former YAYA winner.
Ascan Mergenthaler, senior partner at Herzog & de Meuron, said: "Our design is rooted in the surrounding townscape – it is simple, robust, and flexible, and delivers a formula for the transforming dynamic of the RCA."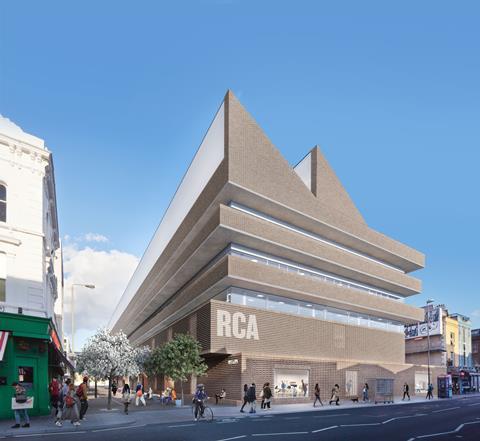 The 15,000sq m project is set out over two separate but interconnected buildings with flexible areas for teaching, research and innovation.
It will house arts and humanities programmes in sculpture and contemporary art practice; design programmes including products, fashion and textiles and design engineering; and new programmes covering computer and material science, wearable technology, robotics, advanced manufacturing and intelligent mobility.
The Studio Building will have three floors of naturally lit and ventilated studios located above ground-floor workshop spaces. The Research Building will contain independent and confidential research space for areas such as materials science, advanced manufacturing and driverless cars, as well as an extended business incubator hub.
The scheme incorporates a double-height space in which large-scale objects can be assembled, prototyped and displayed or public exhibitions staged.
There will also be a new public café and art materials shop, as well as public realm improvements such as new routes connecting the building to the surrounding area.
Herzog & de Meuron's building will complete the RCA's campus just south of Battersea Bridge. It will sit next to three buildings by masterplanner Haworth Tompkins: the Sackler, Dyson and Woo buildings.
The project attracted £54m of government funding in 2016, with the rest set to be raised through a mix of philanthropic donations and RCA investment.
The RCA, whose main campus is in Kensington, is reinventing itself as a STEAM-focused (Science, Technology, Engineering, Art and Mathematics) postgraduate university.