Changi airport job is 'unprecedented collaboration' with KPF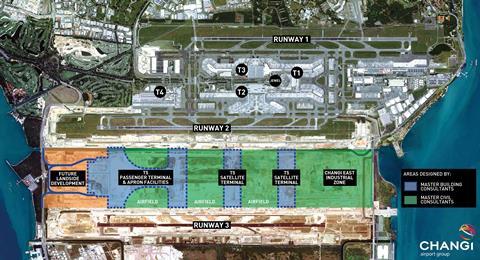 Designing Singapore's huge new airport terminal is Heatherwick Studio's biggest challenge yet, one of the practice's most senior figures said.
The scale and ambition of the project to almost double the size of the airport is unprecedented, said Stuart Wood, the longest-serving member of the studio's design and leadership team.
Thomas Heatherwick said it was "thrilling" to be chosen for what is the practice's largest job to date.
Heatherwick and KPF have now been confirmed as winners of the global competition to design a fifth terminal for Changi airport, after BD revealed the result last week.
Grimshaw, working with DP Architects, and SOM and Moshe Safdie, were the two shortlisted teams that were beaten.
The project will increase the annual capacity of what is already one of the world's busiest airports by 50m passengers.
Heatherwick and KPF are design partners working with local practice Architects 61, plus James Corner Field Operations, The Fountain Workshop, Speirs & Major, Lichtvision Design, and Bruce Mau Design with Entro.
Unusually, Arup, Mott MacDonald and Surbana Jurong, who were originally on a team with SOM and Moshe Safdie, have been swapped out as engineers for the winning team.
Wood said: "Winning the global competition with KPF to design Changi Airport Terminal 5 sets us the most challenging opportunity Heatherwick Studio has ever undertaken. The scale and ambition of this project is unprecedented. We are delighted to have the opportunity to make a memorable new terminal for Changi that inspires at every scale from mega infrastructure, aviation, transit, retail, leisure and culture through to the tiniest detail. Our hope is to make Terminal 5 the most homely and, at the same time, most spectacular airport in the world for many years to come."
Trent Tesch, design principal at KPF, described it as an "unprecedented collaboration" that would "bring unparalleled creativity".
He said: "The combination of KPF's experience in both large-scale infrastructure and urban neighbourhoods, paired with the innovative design expertise of Heatherwick Studio, will create an airport that will go beyond mere transportation requirements and become a city within itself – an integral piece of Singapore."
Thomas Heatherwick said the project was a hugely significant addition to Heatherwick Studio's diverse international portfolio.
He added: "It's thrilling to be chosen to lead the design of the next phase of the world's most successful airport, collaborating with KPF to nearly double the size of Changi. This is an extraordinary opportunity to break away from the sterility and soullessness we've come to expect from typical airport environments. We're excited to treat this next phase of Changi as a new piece of city and bring together the rigour of airport planning with an uncompromising interest in the quality of human experience for passengers."