Fire survivors to be given flats in Squire & Partners scheme - as developer promises to speed up completion
Harley Facades has had its work on a housing scheme in Berkshire designed by SOM suspended since last week's fire at Grenfell Tower.
The firm, which carried out cladding work on Grenfell Tower last year on a £2.6m contract, has also left another job in central London.
Harley Facades had its contract with Comer Group "halted", the developer said, on a project to redevelop a 1960s office block in Bracknell into a 19-storey block of 311 flats.
Comer Group said in a statement: "Comer Group has of course been greatly saddened by the immense tragedy which occurred at Grenfell.
"Whilst making no assumptions on cause or contribution, until such time as the investigatory authorities provide their reports, the directors felt it incumbent upon them to act immediately to preclude any undue risk being incorporated into our own construction.
"Thus, on Wednesday 14th June, the prospective façade contract was halted.
"We have now returned the matter of facade design and construction methods to our consultants and asked for a rigorous re-assessment of the best information and knowledge base to assist in planning this and other developments."
Harley Facades was also due to work on the conversion of an office building called Compass House near Paddington station into 30 high-end flats designed by Brimelow McSweeny.
A spokesperson for 8build, the main contractor on the project, said the firm had "gone" from the project and the search was underway for a replacement subcontractor.
A spokesperson for Harley Facades said it understood that Comer had suspended the contract but as yet hadn't confirmed anything.
The spokesperson added that the firm had withdrawn within the last 48 hours from the contract on Compass House which was for windows and sliding doors.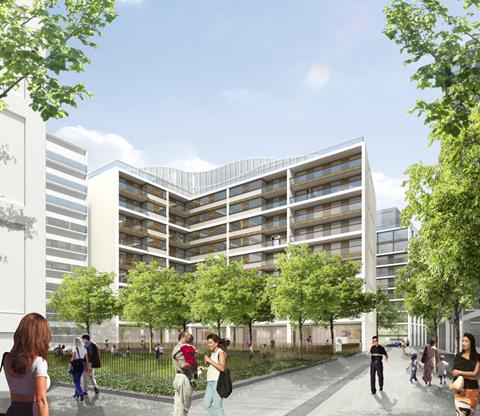 Grenfell survivors to be rehoused in Squire & Partners flats
The government has acquired 68 new homes from developer St Edward to rehouse survivors of the Grenfell Tower fire.
The homes will be located in the two-block affordable housing part of the Squire-designed Kensington Row scheme in Olympia.
This is currently under construction but St Edward parent company Berkeley has said it will now fast-track the build to bring forward the completion date to the end of July.
Extra staff have been committed and working hour restrictions will be relaxed so that work can continue around the clock.
The mix of one, two and three bedroom flats were purchased from St Edward for an undisclosed sum and are located 1.5 miles from Grenfell Tower.
Each home will be fully furnished and St Edward will provide liaison staff for each block. Residents will be able to live in the blocks on a permanent basis.
The Department for Communities and Local Government has committed to finding suitable accommodation in the local area for victims who lost their homes in the Grenfell Tower within a maximum of three weeks.
Communities secretary Sajid Javid said: "The residents of Grenfell Tower have been through some of the most harrowing and traumatic experiences imaginable and it is our duty to support them.
"Our priority is to get everyone who has lost their home permanently rehoused locally as soon as possible, so that they can begin to rebuild their lives."
"The government will continue to do everything we can as fast as we can to support those affected by this terrible tragedy."
Tony Pidgley, chairman of the Berkeley Group, said: "We will work night and day to get these homes ready. We've got to start by finding each of them a home. Somewhere safe and supportive, close to their friends and the places they know, so they can start to rebuild their lives."
Postscript
This article has been slightly amended as SOM Architects have asked us to make clearer that their designs for Bracknell Tower were submitted to the Council to obtain planning permission; SOM did not design the building's facade system and they have had no involvement in the project since the planning phase