Commission wants to revive 'wrongly abandoned' housing types including thatched cottages and back-to-backs
A new generation of traditionally built thatched cottages and the recreation of "wrongly abandoned" high-density housing types such as the back-to-back will be among the recommendations of Roger Scruton's controversial Building Better, Building Beautiful Commission, BD has learnt.
It emerged today that the commission has already outlined its broad-brush thinking to the housing secretary – and that he is keen to make traditional methods of construction a requirement of government tenders.
A Ministry of Housing source familiar with the panel's most recent quarterly "catch-up" meeting said the Scruton team believed boosting traditional typologies could account for up to 41% of MHCLG's targeted 300,000 homes a year.
Such a figure would close the gap between the current and aspirational numbers which are widely viewed as unachievable.
BD's insider said the minister had been "spellbound" by Scruton's initial proposals, but that officials' eyebrows had raised higher and higher with every new sentence.
"Basically, Roger was saying that the thatched cottage was the epitome of all that was good about housing: traditional, English and nice – and that even people who didn't want to live in a thatched cottage liked to look at them," they said.
"So his contention was that everywhere that already has some thatched cottages can have more, and places that don't have any thatched cottages at the moment can have lots.
"Roger isn't saying that there should be whole new estates of thatched cottages – although he does think there is potential to retrofit ugly newer housing. He just thinks that they're ideal for infill development, and that there isn't anywhere in the country that you couldn't slot in a row of cottages and not be metaphorically garlanded."
There are a wealth of abandoned typologies that Roger thinks are ripe for reintroduction
The source added that Scruton believed the traditional skills required to deliver thatched cottages, complete with timber frames and wattle-and-daub walls, would revive traditional British craftsmanship and offer a practical solution to the expected post-Brexit materials shortage.
"To him, just the word 'thatcher' conjures an inescapable warmth because it encapsulates all that is wholesome about the nation," they added.
As well as tackling public opposition to new housing, the Building Better, Building Beautiful Commission is tasked with finding innovative proposals to deal with Britain's increasingly depopulated town centres. It is due to report on April 1 next year.
BD's insider said Scruton felt the problems stemmed from post-war redevelopment that wiped away urban communities with schemes designed for the retail patterns of the 1950s and 1960s – long before the rise of online shopping.
"Roger passionately believes mistakes can be rectified by reverting to old street plans and faithfully recreating what was there before – albeit with damp-proof courses and inside toilets where necessary," she said.
"He says you only have to look at the National Trust's hugely popular Back-to-Backs in Birmingham city centre to see what could be achieved. They are low-rise, pleasing to the eye and structurally sounder than most new flats on offer. The only downside is that they are in the West Midlands."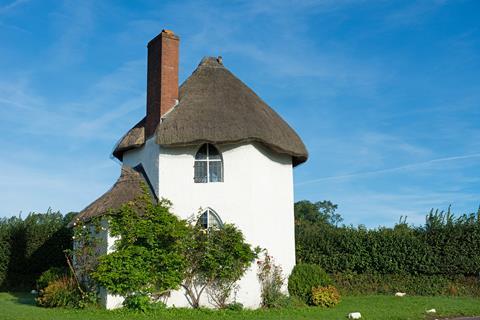 Other preliminary Scruton commission proposals include a custom-build variant inspired by former prime minister David Cameron. It would entitle prospective housebuilders to rent a plot from a local landowner on which they cold park their Romany Caravan until they could afford to build a permanent home of their own.
BD's informant said Scruton was keen to stress that his traditionalist leanings did not come at the expense of a commitment to low-carbon living. "There are a wealth of abandoned typologies that Roger thinks are ripe for reintroduction and he is passionate about combining them with cutting-edge technology," she said.
"Mill races were once a common feature in towns and villages and could easily be revived to provide power-generation for charming, traditionally styled waterside properties.
"Roger is also keen to stress that he is not against taller structures – particularly on constrained sites. He envisages that even the smallest plots could deliver successful zero-carbon family homes of several storeys in height that could be topped with classically detailed turbines capable of generating enough power for entire districts in appropriate weather conditions."
Highly sceptical of Scruton's insight and the likely value of his commission's recommendations, RIBA past president Avoir Unrire told BD: "You simply couldn't make this up."
Postscript
This story was updated at 11.59am on 1 April 2019 to confirm it it is a spoof. Probably.