Decision comes despite Twentieth Century Society warning that proposals will cause 'substantial harm' to grade II* landmark
Newcastle council has approved FaulknerBrowns' proposals for the refurbishment of its civic centre, which will involve substantial revisions to the grade II* building.
The decision comes despite objections from campaign group the Twentieth Century Society, which argued that the scheme would compromise the integrity of the 1960s building, designed by city architect George Kenyon.
Under the proposals a ground-floor colonnade will be enclosed with glass to create a new entrance, meeting pods and a café, while upper floors will be refurbished, and a selection of public realm works carried out as part of a project to turn the building into an income-generating public-sector hub.
The C20 Society argued said the scheme "entirely misconstrued" the significance and exceptional quality of the building's undercroft area.
Government heritage adviser Historic England supported the latest phase of the project on the grounds that it was likely to secure the building's long-term future, but accepted that the magnitude of change proposed was "extensive".
Recommending the scheme for approval, planning officers conceded that the proposed interventions would "to some extent change the character and appearance of the building and result in the loss of some original and noteworthy fabric".
But they argued that the changes were "offset by clearly identifiable heritage and public benefits" and would ensure the building's long-term viability.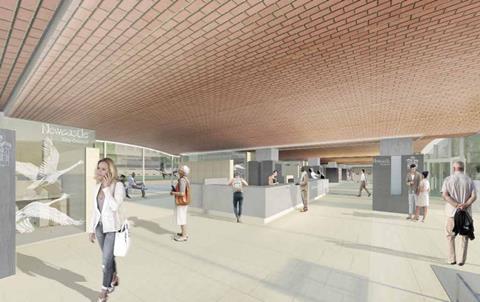 FaulknerBrowns project director Nick Heyward welcomed the city council's decision to approve the scheme, which will allow HM Courts and Tribunals Service to occupy parts of the building.
"Our proposals for Newcastle Civic Centre were developed in response to the council's aspiration to protect, preserve and enhance their unique heritage asset, extending its use as a civic facility and improving its environmental performance," he said.
"Having received planning permission, we now look forward to ensuring the civic centre's intended use is retained and that the significant listed features that make the building an icon of public services within the city, are preserved."
Newcastle council is expecting to generate £32m in new income over the next 25 years by converting its civic centre into a hub for both council services and the wider public sector.
HMCTS is due to move to the building in 2019. Arbitration service ACAS and the Insolvency Service are already occupying parts of the building. Other tenants include Northumbria Police Occupational Health and the German Consulate.