Three-storey 'modular' style teaching and learning centre bags planning permission
FaulknerBrowns Architects has won planning permission for a new development of lecture theatres and classrooms for Durham University, designed not to detract from views of the nearby Durham Cathedral.
The 12-block "modularised" concept for the Centre for Teaching and Learning was created to deliver a "sensitively-scaled" development that would be sympathetic to its local context, on a 1.6-hectare site at Lower Mountjoy.
It will provide two lecture theatres, three computer laboratories, six classrooms, seminar rooms, project rooms, café spaces and staff offices, among other facilities.
The three-storey building will also be used for conferences and other events outside of term time.
A report to the Durham council planning committee meeting that approved the scheme said the learning centre would have a façade that was principally brickwork, in varying shades that broke up its massing, while its roof would comprise a series of zinc peaks, with roof lights and photovoltaic panels.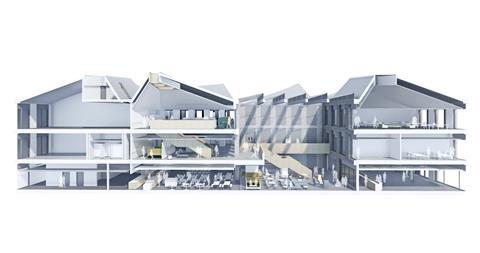 FaulknerBrowns partner Andrew Kane said the materials proposed would provide a transition between the modern university buildings nearby and the more traditional and classical architecture of the buildings that are adjacent to the site.
"With a diverse range of world-class environments, the Lower Mountjoy Centre will provide an exciting new venue to enhance the teaching and learning experience at Durham University," he said.