Councillors reject proposals to add new building
Foster & Partners' plans to tweak the practice's controversial redevelopment of Spitalfields Market with facelifted shopping areas and a new-build element to the north of the scheme have been rejected by Tower Hamlets councillors.
In the early 2000s the practice won planning to redevelop the grade II-listed City-fringe wholesale market, originally designed by George Sherrin, with a scheme that retained half of the original structure and replaced the remainder with a 72,000sq m office building with ground-floor retail and new public spaces that link to the retained market area.
The two schemes – named Old Spitalfields Market and Bishops Square – combine restaurants, event spaces, takeaway stands, permanent shops and market stalls and are a popular venue for both office workers and tourists.
Fosters' latest proposals would have given over more of Bishops Square's ground-floor business space to retail use, altered some shopfronts, removed a canopy from the Market Street area and introduced a new two-storey building on Lamb Street.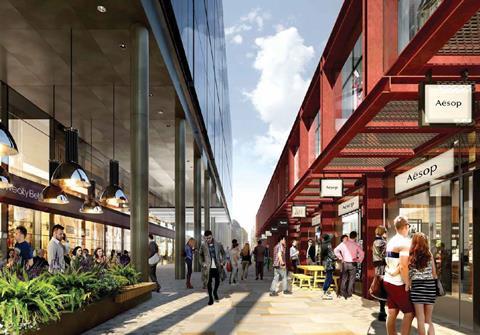 In documents supporting the application, by Bishops Square Sarl, Fosters said it had revisited the original plans and used "the hindsight of 10 years' experience and knowledge" to "deliver on the aspirations of the scheme in Market Street and Lamb Street which were never fully realised at the time".
The practice said the proposals would "complete the transformation of the former wholesale fruit and vegetable market into this eclectic, bustling urban quarter".
Planning officers at Tower Hamlets council supported the application, arguing that the proposed changes would "enhance the vibrancy of the area and contribute to its character".
They said the new structure on Lamb Street, which would be built above an access ramp to underground parking for delivery vehicles servicing the development, was "considered to introduce some identity, activity and vibrancy" to the site.
However local residents aired concerns about the scheme's new-build element – in particular their impact on the green space of Elder Gardens, immediately north of where the new building would be, and potential loss-of-light issues to nearby homes.
No councillor on Tower Hamlets' development committee voted in favour of the proposals at a meeting last week, but five voted againt and and one abstained, citing the impact of the new-build element on Elder Gardens and its impact on the movement of pedestrians and cyclists on Lamb Street because of a narrowing of the current route.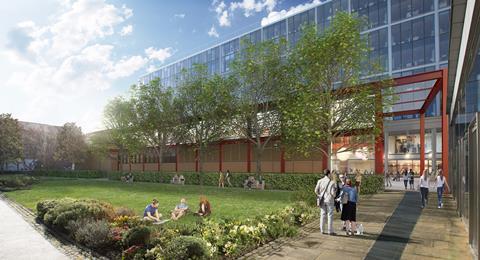 In their report recommending the proposals for approval, Tower Hamlets planning officers said they were satisfied that the narrowing of both Lamb Street and Market Street was safe.
The original plans to redevelop Spitalfields Market attracted opposition from local residents and the architectural community because of the removal of the 1928 extension to the building.
Stirling Prize-winner Will Alsop was one backer of the Spitalfields Market Under Threat campaign group.