Architect previews high-speed cargo distribution system based on tech billionaire Elon Musk's technology
Foster & Partners has released details of its design vision for a Middle East cargo-distribution system based on Hyperloop technology pioneered by billionaire entrepreneur Elon Musk.
The project Fosters has been working on is a collaboration between shipping giant DP World and Virgin Hyperloop One – which has bought into the Hyperloop project – that explores using the system of electric propulsion through low-pressure tubes for transporting "high-priority goods" rather than people.
Focused on Dubai, the DP World Cargospeed project looks to create a new infrastructure network that integrates with existing ports and delivers freight to autonomous vehicles for delivery into the heart of cities.
Virgin Hyperloop One is in the early testing phase for the technology, which sees transportation pods powered by linear electric motors that float in a low-friction environment aided by magnetic levitation within a low-pressure tube.

It said small-scale testing in Nevada had seen pods able to accelerate to 192mph in a matter of a few seconds, and predicted that passenger services could reduce journey times between London and Edinburgh to just 50 minutes.
Fosters' Cargospeed project in Dubai is not passenger-focused, but aims to "create an infrastructural network that forms a fundamental part of a new ecosystem, in which urban centres, rural landscapes, people and nature are all interconnected".
The practice added that the fully autonomous and enclosed system "eliminated" pilot error and weather hazards, and would deliver "exceptional service" for high-priority, on-demand goods at the cost of trucking and the speed of flight.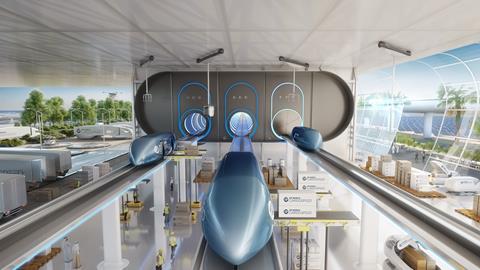 Founder and executive chairman Norman Foster said the project was a concept of a green and renewable system of transport that looked to reinvent urban transport and logistics.
"It is important we develop an integrated sustainable vision of infrastructure that will enable us to evolve and adapt our existing cities, and design new ones that will be in harmony with nature and our precious planet," he said.
Studio head Stefan Behling said Hyperloop technology would feature a "multi-use lightweight green renewable spine" that reflected a global shift towards more dispersed infrastructure.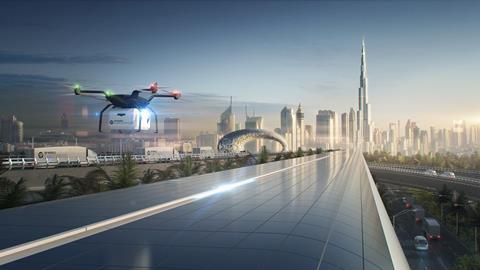 Last year a competition named the Hyperloop One Global Challenge saw 10 projects selected in an ideas competition for applications for the technology.
Newcastle-based Ryder Architecture was part of one of the two UK teams to get picked. Overall, Aecom had a stake in half of the projects.