West Port & Company draws up proposals for boutique venue's hub building
Start-up practice West Port & Company is seeking planning permission for the core communal buildings it has designed for a boutique hotel project on the Isle of Skye.
The London-based firm – founded in 2016 by former Edinburgh University students Colin Cheng, Khalifa Abubakar and Shaun Ihejetoh – created a 400sq m hub for the development, on the western slopes of Portree, which will contain the hotel's reception, restaurant and lounge.
Ihejetoh said the site's rugged landscape had inspired the practice's design, which brings together local stone rubble set in gabion cages, glass, bronze to frame all of the building's openings, and wild grass.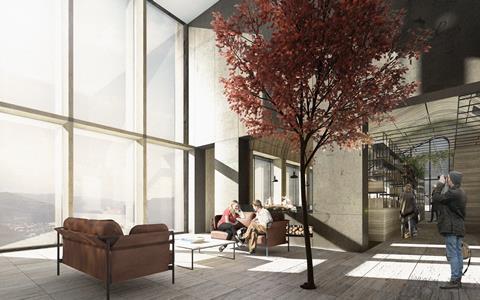 "The structure of the building is formed of gently curving glulam ribs," he said. "Internally the ceiling is clad in timber, complementing both the natural landscape and heightening the sense of warmth, calm and tactility."
Ihejetoh added that a sauna and outdoor swimming pool would be adjacent to the hub building, and designed in similar style. The hotel's guest rooms are individual cabins dispersed across the landscape in small clusters.
Highland Council has yet to determine the application, made on behalf of client Garton-Jones.