Pritzker Prize-winner's wood-framed mini-tower in Tooley Street set for approval
Shigeru Ban's first UK project has gone in for planning and been recommended for approval by planning officers.
It is a modest affair for a Pritzker Prize winner, but the five-storey timber-framed family home designed for a small plot near London's Tower Bridge is certainly unique.
Created in collaboration with CLT specialist Waugh Thistleton, the building features just three bedrooms, a ground-floor office and workshop, and a roof terrace covered with an undulating lightweight transparent membrane. A proposed basement level is described as primarily for plant use, while all floors apart from the roof terrace will be accessible by both lift and stairs.
Ban, whose practice is headquartered in Tokyo, was appointed to the project in 2015 after developer John Curran purchased a small parcel of land adjacent to Potters Fields, off Tooley Street, from Southwark council.
In documents submitted to Southwark to support the application, Curran said that identifying the site – which is near Foster & Partners' City Hall and 3 More London block – for his family home had taken four years.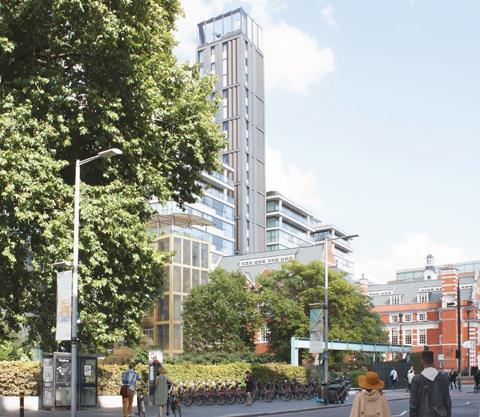 "Since acquiring the site, our aim of course has been to build a house, but we recognise that the land is prominent and important to the surrounding community of residents, businesses and visitors," he said.
"As such, it was important to develop a programme that took into consideration the adjacent park, the Tooley Street built environment, the grade II*-listed St Olave's (now The LaLit Hotel) as well as the larger, contemporary buildings that comprise More London, the Greater London Authority and One Tower Bridge."
Curran said that building in "such a remarkable location" had required investment in exceptional architecture.
He said of Ban: "I have followed his work for many years and have been fascinated by the diversity of his designs and how sensitively – sometimes tenderly – they respect the context of the sites."
Southwark planning officers have recommended the project for approval but the decision has been delayed while small design changes were made to protect tomb stones on one of the perimeter walls.