Fire Protection Association technical director suggests England should follow examples of US and Dubai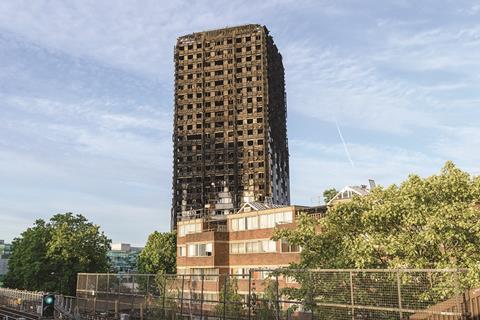 A leading fire expert who advises the insurance industry on risk has said all materials used in cladding systems must be non-combustible in the future.
Jim Glockling, technical director of the Fire Protection Association (FPA) and director of RISCAuthority, an insurer-funded research scheme, said the government should consider legislating in favour of non-combustible cladding system materials following this month's fire at Grenfell Tower in west London which has so far claimed the lives of 79 people.
He told BD: "There needs to be a long, hard look at this. People need to realise there are large commercial fires every week. We feel it's unacceptable."
Glockling's comments came in the week that communities secretary Sajid Javid announced a new independent expert panel to advise on measures to be put in place following the Grenfell Tower fire. Their recommendations will cover public and private buildings. The advisory panel comprises a range of building and fire safety experts, including Dr Peter Bonfield, chief executive of the Building Research Establishment and Amanda Clack, EY partner and president of the RICS. It will be chaired by Sir Ken Knight, former government chief fire and rescue adviser.
Other countries that have already legislated in favour of non-combustible cladding systems include Australia and the US.
Current UK fire regulations allow materials of limited combustibility to be used in cladding systems.
The rapid spread of the fire at Grenfell Tower has been attributed to the use of combustible materials in the cladding system.
The insulation used on the 24-storey block, Celotex RS5000, is combustible and the external rainscreen panel, a product called Reynobond, has a combustible plastic core.
The Grenfell fire has prompted a huge cladding combustibility test programme, with the government announcing plans to carry out tests on 600 buildings around the country. As of Wednesday this week, all those that had been assessed so far had failed and, in the wake of the results, prime minister Theresa May said there should now be a "major national investigation" into the use of cladding on high-rise towers.
Glockling said current fire safety test methods on cladding systems mean they are conducted in perfect conditions and do not account for failure to properly to install measures that limit the spread of fire such as cavity barriers. He added that the tests also do not allow for changes such as a workman drilling a hole through the cladding to put in a plastic drainage pipe or vent.
"There are mistakes and inaccuracies that come into installation and over time the building gets damaged. If you start with non-combustible materials these are much more forgiving," Glockling said.
The FPA is about to start a series of "sensitivity tests" to determine how different cladding systems perform when subjected to real-world conditions. Glockling said: "What we want to determine are the deviations from perfection."
In January this year, Dubai introduced regulations covering the use of non-combustible cladding systems after suffering from a spate of fires in tall buildings that have been blamed on the use of cladding similar to those used on Grenfell Tower.
The Gulf state now only allows non-combustible materials to be used in cladding systems. It has also legislated for cladding systems with combustible material on existing buildings to be replaced over time.


Fire regulations compliance: a confusing picture
There are four ways to achieve compliance with Part B, the building regulation dealing with fire:
The first is to follow the prescriptive guidance in Part B. This sets out the fire performance requirements of the individual elements of a cladding system
The second route is to perform a full-scale cladding system test to BS 8414
The third route is to perform a desk top study using data from tests to BS 8414 to demonstrate a proposed cladding system will meet Part B
The fourth route is to employ a fire engineer who takes a holistic view of the building design and applies fire protection and mitigation strategies in high-risk areas but minimises these in areas of low risk.