Kirkstall Forge site will eventually have more than 1,000 homes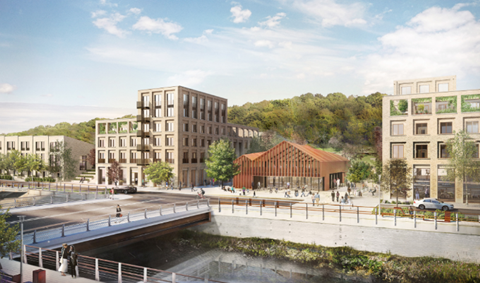 Feilden Clegg Bradley Studios Kirkstall Forge proposals
Feilden Clegg Bradley Studios-designed plans for a housing and retail development at Kirkstall Forge in Leeds have been lodged for planning permission.
The application for 112 family homes in a mix of housing and apartments, along with 2,137 sq m of retail and leisure space, is the latest phase of wider development at the 23 hectare site in the north-west of the city, close to the remains of a medieval abbey.
Developer Central Estates Group is targeting a new neighbourhood with 1,050 homes, 27,870 sq m of office space and 9,290 sq m of retail and leisure space.
FCB Studios associate Andrew Macintosh said the practice had taken much of its inspiration for the scheme from model villages such as Saltaire and the steep terraced streets found in many Yorkshire towns.
"The communal, pedestrian-friendly areas in front of the homes also benefits from contemporary Scandinavian ideas about co-housing and will help to build a true sense of community," he said.
"This beautiful urban village creates spaces for a new generation to live, work and explore."
CEG said that subject to planning permission development could commence later this year.
The first phase of commercial development of the Kirkstall Forge site – a seven-storey office building – is due to complete this autumn.