Practice claims 'industry-leading gender balance' and 30 nationalities among its ranks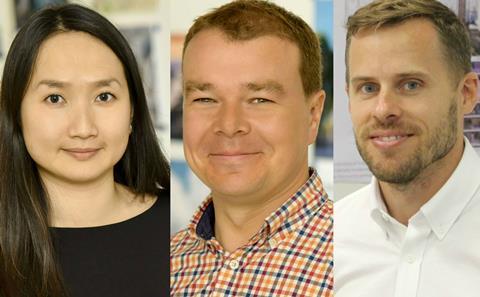 Architect Farrells has announced the appointment of a new design partner and two new associate partners from rival practices.
Effie Kuan joins the practice from Feilden Clegg Bradley Studios and will lead on a number of major mixed-use and residential developments in the capital, as well as heading up the business' Architectural Design Research and Development Group.
Kuan, who spent several years at Zaha Hadid Architects before joining FCBS, will become a design partner at the practice.
Transport specialist Chris Crombie joins Farrells from Grimshaw Architects as an associate partner. He will head up the developer-led bid for Euston station with Argent Related, as well as station-development projects at King's Cross and Barking and Dagenham in east London.
Former PLP director Michael Faulkner also joins Farrells as an associate partner responsible for designing and delivering large-scale buildings. The practice said Faulkner had worked at international practices in the US and UK and had experience with projects ranging from residential to commercial, hospitality to healthcare and education.
The new hirings follow the promotions of Laura Mazzeo to managing partner and Shevaughn Rieck to partner at the beginning of this year.
Farrells said the practice now had "an industry-leading balance of male and female staff" among its 200 employees, which includes workers from more than 30 different countries. It said 47% of its current team and 39% of its architects were female.
Just 25% of architects on the Arb register are women and only a fifth of the partners in UK architecture practices are women, according to a straw poll conducted by the AA last year.
Farrells said the latest appointments reflected the business' focus on diversity and its goal of recruiting people from all around the globe.
"Diversity is a strength for the company, providing Farrells with a range of perspectives and the ability to work effectively across the complex international markets," it said.