Sixteen buildings by eight small firms set to deliver 'souq' for creatives in south-east London
The developer behind the multibillion pound regeneration of the Greenwich Peninsula has unveiled its final vision for the project's city-block-sized design district.
Created for Knight Dragon by 6a Architects, Mole, Architecture 00, Barrozi Veiga, SelgasCano, Assemblage, Adam Khan Architects and David Kohn Architects, the 16 low-rise structures aim to offer affordable workspace to for the creative industries, as well as bars and restaurants and exhibition space.
A focal point for the development, which will occupy a 1.08ha footprint just south of the O2 Arena, is a transparent market area designed by Spanish practice SelgasCano – creator of the 2015 Serpentine Pavilion.
Assemblage director Peter Besley, whose practice is also lead architect and urban designer for the design district project, said the market area was "very playful" and would be a crucial venue for bringing together the 1,800 artisans, designers, film production staff, architects and photographers targeted by the development.
He said the development would deliver 14,500sq m of new floorspace in buildings of up to five storeys – all compliant with a maximum AOD of 25m, a stark contrast with proposed neighbouring high-rise structures.
The design district is also a pedestrian area, with some structures separated by just two or three metres, an effect that Besley said would give the area a feel "almost like a Moroccan souq".
"People will flood through it and find places that you wouldn't otherwise know existed," he said.
Besley said there were common themes to the way space was divided in some of the buildings, with upper-level high-ceilinged studios, offices on middle levels, and workshop space the ground floor – the latter giving the district a degree of animation often lacking in office developments.
He added that Assemblage and Knight Dragon had hand-picked the other seven practices hired for the project, with each commissioned to build two structures on non-adjacent plots as part of a plan that set out to deliberately juxtapose architectural styles.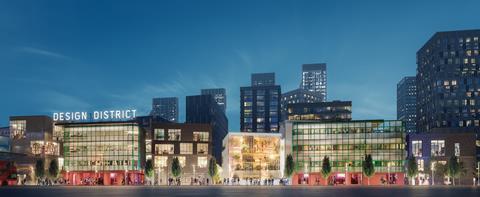 Besley said that while the practices were generally smaller operations, there was no ban on bigger practices. Instead, a key component to the invitations to be part of the project was an acceptance that the principal of the practice must design the buildings.
"We told them exactly what plots they were going to get," he said.
"It was important to us that particular architects worked on particular plots – they pleaded with us, but we wouldn't tell them why."
Besley said that the scheme's design rule that no architect was to have two buildings next to each other resulted in "family relationships" across the development, in which structures by the same practice could be seen to be perceptibly responding.
The design district already has planning permission in principle from the Royal Borough of Greenwich. Reserved-matters applications covering final design details for the structures are expected to be submitted in November, ahead of a start on site next year.
Knight Dragon said the district would be open for business in early 2020.
It is part of the developer's wider £8.4bn plans for the peninsula, which will provide nearly 16,000 homes in seven new neighbourhoods and also deliver a new film studio.
In February Knight Dragon unveiled the Peninsula Place triple-tower development by Spain's Santiago Calatrava, which features a 25m high winter garden and a 150m long "glass galleria" connecting the 800-home development with the O2 arena.