Small east London practice eyes regeneration of Old Street block
Emerging practice Douglas and King Architects has begun consulting on plans to redevelop a cluster of buildings in Shoreditch.
It has this week launched a pre-application showcase on plans to regenerate what it described as a "semi-derelict urban block" within the South Shoreditch Conservation area by adding three new buildings and creating a new public piazza.
Under the scheme, the practice would refurbish and "reimagine" two terraces of townhouses with ground-floor level shops, and create 9,000 sq m of new retail, restaurant and office space on the site, which is bounded by Tabernacle Street, Singer Street and Great Eastern Street.
It said the new public space created by the proposals would restore a thoroughfare "lost" in the inter-war years and which would be "activated" by ground-floor retail spaces.
The proposals would also see the demolition and reconstruction of two large commercial buildings with the creation of a new 10-storey block on Old Street, on the site of the current Picture House building.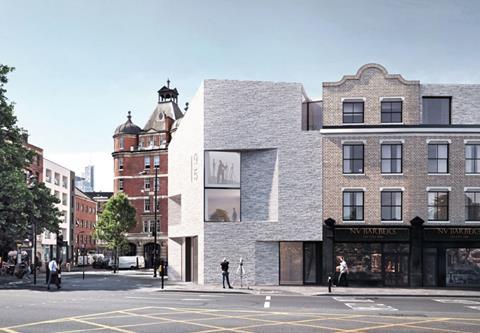 Practice director Martin King said the firm – which is based in nearby Curtain Road – was currently working as project manager and design team leader on the scheme, and intended to submit a detailed application for the scheme to Hackney council in November.
"We have been working on this project for a number of years and have spent the last 12 months engaged in a planning performance agreement with Hackney," he said.
The tallest element of the Douglas and King proposals would deliver 3,100 sq m of new office and retail space and act as an "architectural bookend" for the western element of the scheme.
At the other end of the Old Street frontage, new building 95 Tabernacle Street would replace an existing single-storey restaurant and deliver 90 sq m of new space, in what Douglas and King described as a "contemporary response" that drew on the proportions of the neighbouring terraces.
Towards the south of the site, a new five-storey office building named Titchfield House would deliver 4,300 sq m of new workspace, replacing a post-war commercial building that currently occupies the site.