Wetrooms are all the rage, but there are myriad technical and regulatory factors to consider. This CPD, sponsored by wetroom specialist Impey, provides all the details.
CPD CREDITS: 60 MINUTES
DEADLINE: 18 MAY 2018
For more information about Assemble Media Group's CPD distance-learning programme, click here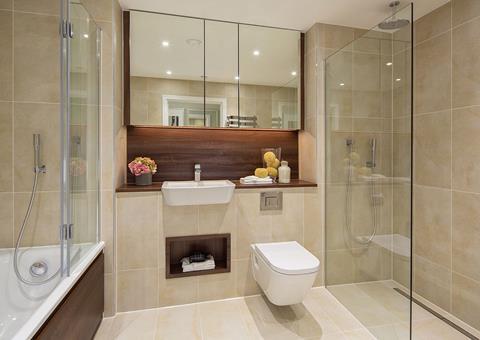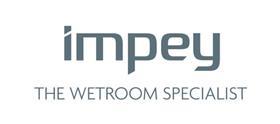 INTRODUCTION
Wetrooms with wide glass panels and recessed wall profiles are predicted to be a key trend for 2018. Given the growing popularity of wetrooms in the residential, education, leisure and healthcare sectors, it is vital customers, designers and contractors are aware that a number of steps should be taken before undertaking the work.
Planning permission
While planning permission is not specifically required for a wetroom, there may be instances where building regulations apply, for example when the wetroom is to be sited in a new extension, or where an existing room is being converted, or if it is a new build. Building regulations will also need to be adhered to when a wetroom installation involves moving a toilet within an existing space. This is to ensure that the correct fall is considered, air flow is maintained and any new pipework is tapped into the existing soil pipe correctly.
Part A, section 1.10 of the Building Regulations Act 2010 briefly covers the structural appraisal of existing buildings for change of use. The Building Regulations Act 2010 provides guidance for compliance with building regulations for work carried out in England. Part A, section 1.3 states that any structural work of composite steel and concrete must comply with general rules and rules for buildings, while the same is the case for structural work using timber. Section 1.6 states that design of timber structures, including floors, should comply with common rules and rules for buildings.
It is worth noting that these documents only give a brief guidance on wetroom refurbishments and it is recommended that designers and others considering a wetroom seek further information from the government's online planning and building regulations resources.
Listed buildings
Converting bathrooms to wetrooms in listed buildings would need to be carefully considered. This is largely because old masonry and pipework may not support a modern wetroom that requires heavy water flow from powerful showerheads. Grade II listed buildings should be a little more adaptable with wetroom installations, due to there being provision in the regulations to bring the property up to a suitable standard; however, the same cannot be promised for Grade II listed buildings. Ultimately the planning department of the local authority decides whether to grant listed building consent for proposed work and they will provide advice from the very beginning of the application process, advice developers are strongly advised to seek.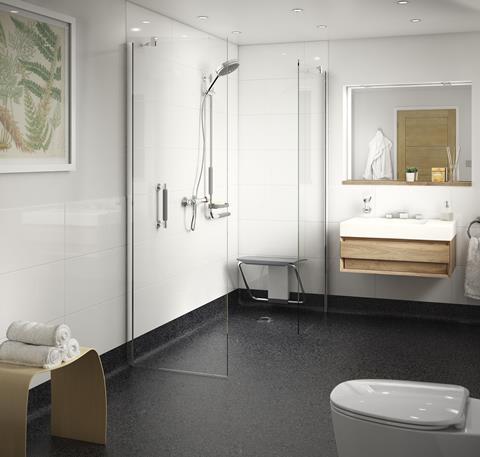 New builds
While the advantage to planning a wetroom for a new build is being in the position to start from scratch without assessing and altering existing works, it is essential to incorporate the design of the wetroom very early into the services specification. The location of elements such as joists, pipework and concrete flooring will determine the siting of the drain, vents and soil pipes. Retrospective fitting is not always possible, even in a new build.
It is always recommended to start by accurately measuring the room to scale, precisely marking the location of the tray former. This will enable a schematic to be done of where the waste outlet will need to be and the positioning of pipes for all bathroom facilities. A crucial element is to not have the waste pipe from groundworks meeting the exact point of the waste outlet pipe from the tray former. The wetroom waste pipe should always run independently so as to provide a free flow of air through shower waste pipes. While this prevents the starvation of airflow from occurring, an independent waste pipe will also help to avoid any chance of "double trapping". Vented systems and air admittance valves can often aid with airflow.
Space versus practicalities
When finalising the floorplans to a bathroom, it is essential to balance space and practicality. If the wetroom is to be the main bathroom in a family home, a layout without an actual bathtub may maximise the usable space but this may prove impractical. In such cases, it is advisable to include a bath and locate a wet area to one side of the bathroom, separating it off with a glass room divider. The positioning of the sanitaryware is also critical to avoid it becoming wet, while proximity to a door must also be carefully considered to avoid the risk of walking across a wet floor.
Similar practical considerations will need to be addressed in the design of wetrooms for commercial environments, where the increased footfall and usage will need to be factored in, as well as health and safety requirements.
If the wetroom is part of a Lifetime Homes project it will be necessary to ensure all fittings are installed at pre-determined heights with full accessibility to people of all ages.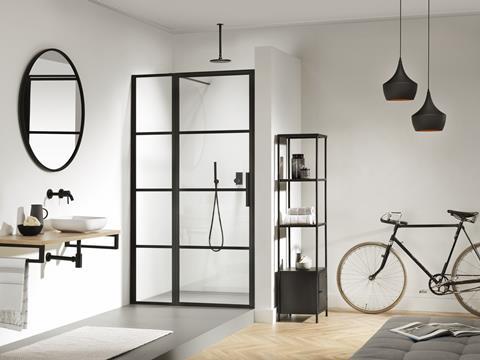 Aesthetics and sector requirements
Defining the style of the wetroom appropriate to the type of project is a key consideration. If it is for the residential sector, is there going to be a mix of materials and finishes, such as tiles mixed with a wooden floor? If in the health and care sector, is a particular type of vinyl floor a prerequisite? If intended for a care home or hospital, are medicinal fixtures and fittings such as grip rails and shower chairs a requirement?
Design decisions relating to both aesthetics and sectors are subject to a range of factors, including the quality of the drainage on the property, the available water pressure, or direct connection to the mains. This will have an impact on the type of shower specified: whether it is mixed, power or multi-jet, and ultimately the size and style of both the grill and showerhead.
Deciding on whether to install underfloor heating, which will accelerate the drying time in the wetroom, also needs to be factored in prior to the choice of flooring. Glass panels are available in clear or satin glass, and where privacy is required, modesty panels in etched glass can be installed. For ease of cleaning and to avoid the build-up of limescale, it is also worth considering glass panels that have a thin protective coating.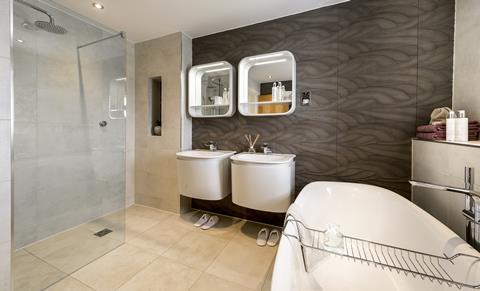 Lighting options
The choice of lighting and its location within the wetroom area must comply with the current Building Regulations. When installing electrical components and switches in bathrooms and wetrooms, most electrical work must comply with Part P of the Building Regulations Act 2010, which states that no mains voltage may be fitted in a wetroom, including electric shaving sockets, light switches and standard sockets. Part P states that lights should be enclosed and mounted on the ceiling, with a pull-cord switch installed for use. Alternatively, wall-mounted light switches should be installed outside the wetroom.
Electric and gas heaters must be fixed at a safe distance from the shower area; a pull-cord switch installed outside the wetroom is also advised. As well as conforming to building regulations, Ingress Protection classifies and rates the degree of protection provided against intrusion – of body parts such as hands and fingers, dust, accidental contact, and water – by mechanical casings and electrical enclosures. IP ratings indicate how much protection is provided against water and other particles entering the equipment. Each zone has a minimum IP requirement that must be met if a fitting is to be installed in the area. In this case, wetrooms come under Zone 0, which means that any fittings used are SELV (separated extra low voltage) with a maximum 12V and have a minimum rating of IPX7 (IP67) (protected against immersion in water – total immersion-proof).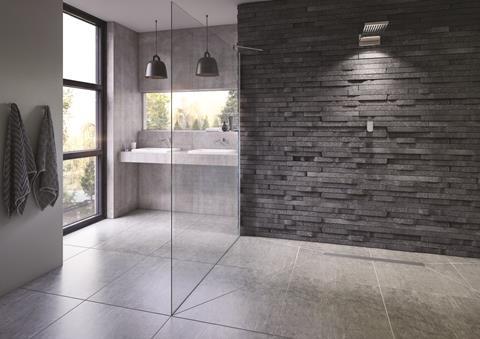 Key points to consider
1. Drainage
The removal of waste water is the major consideration in the design of a wetroom. It is critical to specify the drainage solution required for the wetroom at the planning stage.
2. Floor build-up
The Federation of Master Builders says a successful wetroom needs to be made absolutely watertight, and needs an absolutely solid sub-base, because one of the biggest problems can be leakage where movement occurs, especially in older homes.
3. Waterproofing
Waterproofing, or "tanking", is a crucial part of the installation process. Typically, a waterproof membrane lines the entire shower floor area prior to the application of the tiles. It must extend at least one metre beyond the intended wet area.
4. Tiling
Tiles are the usual choice for both the walls and the floor in a wetroom. Whether stone or ceramic they need to have a water-resistant surface and meet the requirements of BS EN 14411 Ceramic tiles – definitions, classifications, characteristics and marking. The following standards provide further guidance on tiling and flooring:
BS5385-4 Wall and floor tiling – design and installation of ceramic and mosaic tiling in special conditions. Code of practice.
BS EN 12004 Adhesives for tiles and BS EN 1388 Grout for tiles. Requirements, evaluation of conformity, classification and designation.
For the health and care sector the following standard applies:
BS 8300 Design of buildings and their approaches to meet the needs of disabled people. Code of practice.
5. Ventilation
High humidity and condensation can affect materials and walls in the wetroom area so it is essential to consider appropriate ventilation, especially in a windowless environment. The provision for vents, especially in basement areas, and/or windows, needs to be part of the architectural specification.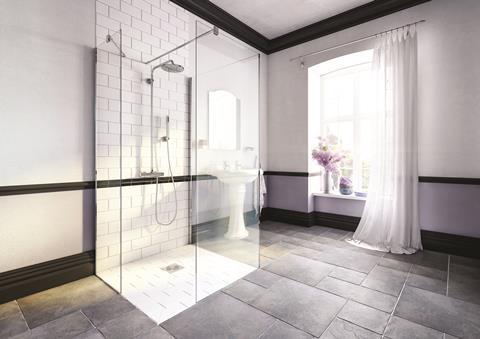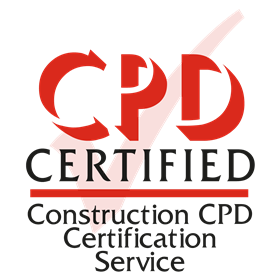 How to take this module
Assemble Media Group's CPD distance-learning programme is open to anyone seeking to develop their knowledge and skills. Each module also offers members of professional institutions an opportunity to earn between 30 and 90 minutes of credits towards their annual CPD requirement.
This article is accredited by the CPD Certification Service. To earn CPD credits, read the article and then click the link below to complete your details and answer the questions. You will receive your results instantly, and if all the questions are correctly answered, you will be able to download your CPD certificate straight away.
CPD CREDITS: 60 MINUTES
DEADLINE: 18TH MAY 2018

Privacy policy
Information you supply to Assemble Media Group Limited may be used for publication and also to provide you with information about our products or services in the form of direct marketing by email, telephone, fax or post. Information may also be made available to third parties. Assemble Media Group Limited may send updates about Building CPD and other relevant Assemble Media Group Limited products and services. By providing your email address you consent to being contacted by email by Assemble Media Group Limited or other third parties. If at any time you no longer wish to receive anything from Assemble Media Group Limited or to have your data made available to third parties, contact the Data Protection Coordinator at building@building.co.uk. View our full privacy policy at www.building.co.uk/cpd