This module looks at how facade technology can bring practical benefits and aesthetic advantages to small structures and high-rise buildings alike
Click here to take the CPD module.
How to use this module: BD Reviews' free continuing professional development distance learning programme is open to everyone who wants to develop and improve their professional knowledge and skills. These modules can contribute to your annual programme of CPD activity to help you maintain membership of professional institutions and bodies. All you have to do is read this module then take the questions via the link above or at the bottom of the page.
Module 12 deadline: December 30 2011
Rainscreen cladding systems can be installed on new or refurbished buildings. They are commonly used to over-clad tower blocks that have deteriorated, extending their useful life, but they can also be used for very small, low-rise applications.
The rainscreen system uses a ventilated cavity to provide a two-stage protective envelope to a building. The outer leaf — the decorative panel — provides the major barrier to rain pene-tration. The joints between panels are carefully designed, but some moisture may get through. Any moisture that penetrates is removed from the cavity partly by evaporation and evacuation through the stack effect, but also by running down the rear face of the decorative panels and out at the base of the wall.
Advantages of rainscreen cladding
Prevents water penetration
Because the joints are open or lightly baffled, the pressure inside the cavity is equal to the pressure outside. This pressure equalisation is instantaneous, which means that rain is not driven into the cavity. Instead, in driving rain conditions, the moisture forms a membrane across the baffled vertical and horizontal joints, which has the effect of keeping the great majority of rainwater on the outside of the lightweight panel.
Removes water
Water that does penetrate through the joints is removed by evaporation and evacuation through the stack effect, or by draining down the back of the panels. The effectiveness of any rainscreen system can be checked by standing at the base of a large installation in driving rain and observing the amount of water that emerges from behind the rainscreen cladding — less than 1% of water penetrates.
Prevents condensation
Rainscreen systems are thermally very efficient. Placing insulation on the outside of the structure means that any risk of interstitial condensation occurs close to the ventilated cavity.
Prevents thermal bridging
Insulation placed within the cavity can be continuous — ie unbroken by the elements of the structure — which avoids thermal bridging and minimises constructional problems.
Preserves the structure
Condensation and fluctuations in structural temperature pose severe threats to the integrity of a structure — concrete tends to carbonate and reinforcement rusts. If all insulation is internal, the structure is subject to a wide range of temperatures, as well as degradation by weather and UV light, and condensation can form on the inside face of the structure. With external insulation, the structure is kept at a more even temperature and is always above dew point.
Components of rainscreen systems
The necessary elements of rainscreen cladding systems:
The internal wall, which should be airtight. There are different types of insulation, one regularly used is mineral fibre, which reduces heat loss and provides security against the spread of fire. Being permeable, it also allows water vapour to pass from inside the building into the ventilated cavity.

The ventilated cavity, which takes away any water that may penetrate the panels.

The lightweight outer panels, which have open or lightly baffled joints to allow pressure equalisation.
Fixing systems for rainscreen cladding
VISIBLE SYSTEMS
Traditionally, most high-performance cladding panels have been fixed with surface fixings. Above the second floor, any heads of surface fixings cannot be seen.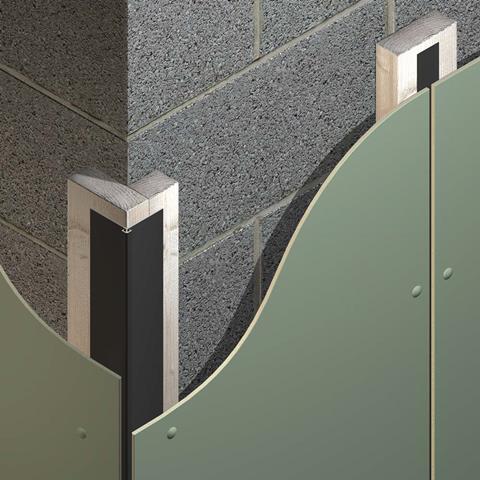 Timber battens
It is recommended that an EPDM rubber strip is added to the battens to prevent any water from entering the joint running down the timber.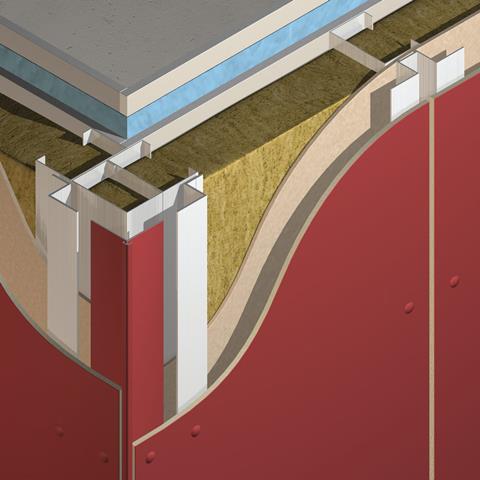 Integral walling systems
These may be constructed off site (with the benefit of increased factory tolerances) or put together on site.
The main advantage is that all wet trades are eliminated.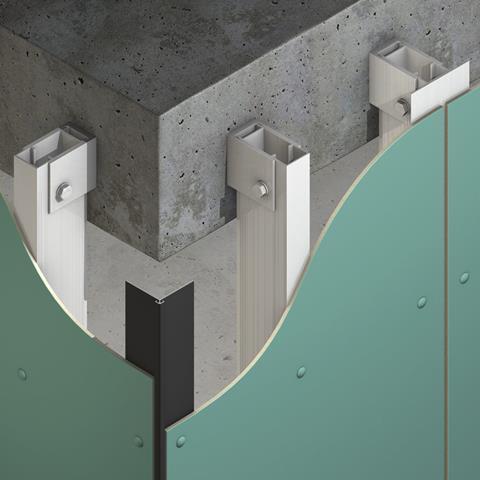 Floor-to-floor spanning
For some buildings, these systems are needed where the existing infill panels are not able to take the extra load.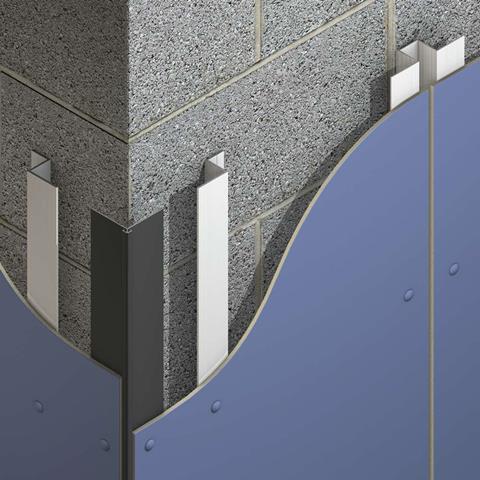 Aluminium non-adjustable framework
This is used where timber is felt to be inappropriate for reasons of longevity or fire.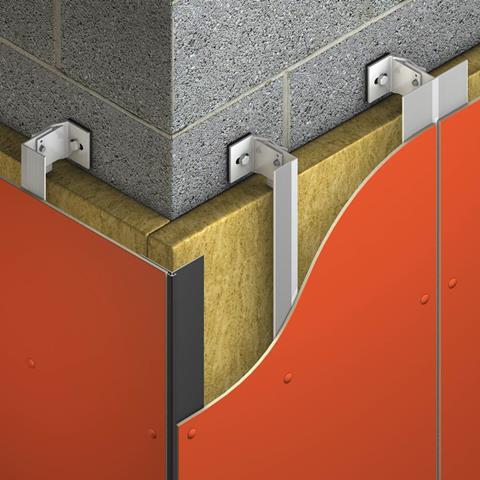 Adjustable aluminium
Often used on large facades, where lining and levelling are required in both horizontal and vertical planes, this system has rails that can be adjusted in the brackets before fixing, as well as different bracket sizes, to accommodate almost any combination of backing material and poor building tolerances.
INVISIBLE SYSTEMS
There are two main types of invisible systems.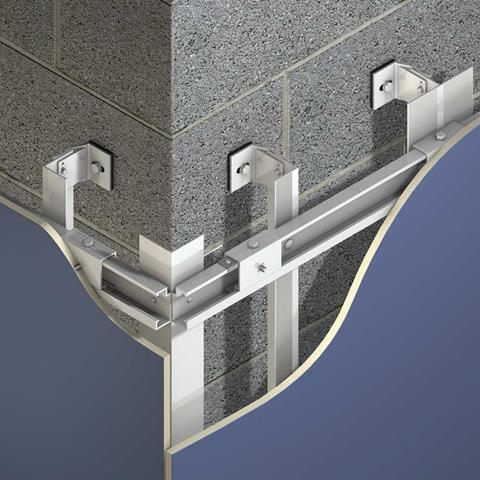 Mechanically fixed
Most mechanically fixed systems require an anchor to be fixed into the back of the panel. The anchor will be secured either by an undercut funnel-type fixing or by an expanding plug. Rails or brackets may be secured to the panel in a variety of ways. Panels can then be fixed back to the rails or directly to the structure.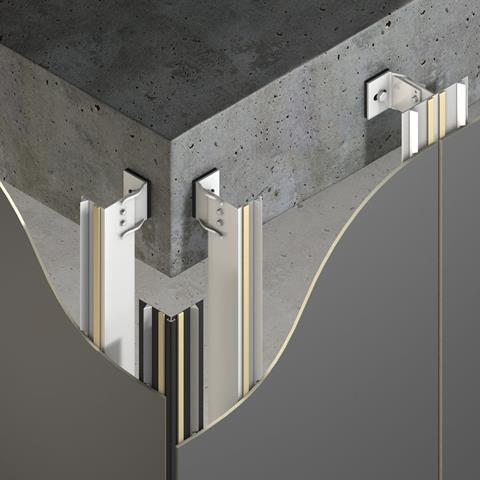 Adhesive bonding
Adhesive fixing is a great deal stronger than mechanical fixing because of its greater area of contact. It is also more flexible, so, for example, if an internal lightweight frame is subject to flexing and moving, the adhesive can accommodate this without damaging the panel.
Other considerations for the design of rainscreen cladding systems
A variety of materials can be used for the outer leaf of the rainscreen cladding system.
Joint details
The joint of the rainscreen system may be left open or baffled. It is common to leave it open on low-rise structures. For high-rise buildings baffling is desirable at the horizontal junctions of panels and lessens the force of wind-driven rain.
Ventilated cavity
The cavity between the panel and the structure or insulation should be at least 30mm. This is to ensure there is enough ventilation and to minimise the risk of wind-driven rain reaching the structure or insulation. However it should not be more than about 50mm, as this creates the risk of spread of
fire due to large air movements.
Window detail
Where doors or windows interrupt the facade, ventilation behind the cladding must be maintained.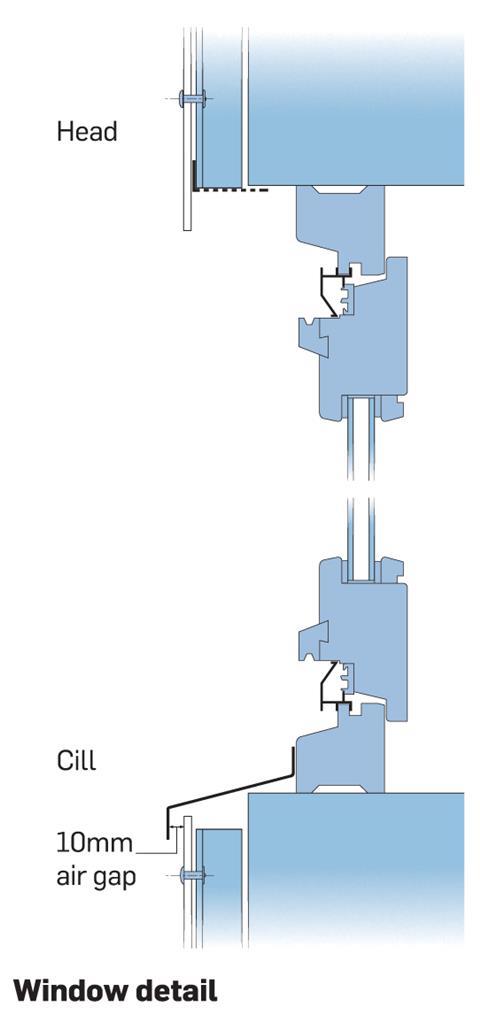 Panel materials used for the rainscreen's outer leaf
Fibre cement
These come in a range of densities. High-density panels (1,600kg/m3) are used with both visible and invisible fixing applications. Medium-density panels (1,200kg/m3) are limited to lower-level applications, such as housing, and are typically fixed by screwing to timber battens. Medium-density panels are also available for weather-boarding. Fibre cement has Class O and EN 13501-1 fibre performance and classified to A2-s1, d0 non combustible.
High-pressure laminate
These panels are produced in a range of thicknesses and sizes. All panels have a UV-protection layer on the outside to resist fading. They have good impact resistance and can therefore be used at low level where they may be subject to impact.
Aluminium and aluminium composites
These may come in the form of trays, as cassettes or face-fixed. They can be used on buildings with more complex forms, including curved walls, and can easily accommodate cill, head and jamb details.
Glass-reinforced plastic
Large aggregate granite chips are adhesively fixed to a GRP-based board.
Because the chips are granite, they provide extremely good weather resistance and are available in a range of colours.
Terracotta / ceramic
Different-sized tiles are available in a range of
colours and shapes, which
can add feature areas or form the complete cladding area.
Key design considerations
Any panel material selected should:
resist UV degradation
be inert
be tolerant of expansion and contraction
retain its colour
be low maintenance
have a low life-cycle cost — for example, fibre cement panels can achieve an A+ rating in the BRE Green Guide
be lightweight — 10 to 20kg/m2
be fire resistant
Postscript
To complete this CPD, read the module and click here to take the test online. If you experience any problems viewing the test online, contact bdreviews.cpd@ubm.com
MODULE 12 DEADLINE: December 30 2011
Privacy policy:
Information you supply to UBM Information Ltd may be used for publication and also to provide you with information about our products or services in the form of direct marketing by email, telephone, fax or post. Information may also be made available to third parties.
"UBM PLC" may send updates about BD CPD and other relevant UBM products and services. By providing your email address you consent to being contacted by email by "UBM Information Ltd" or other third parties.
If at any time you no longer wish to receive anything from UBM PLC or to have your data made available to third parties, please write to the Data Protection Coordinator, UBM PLC, FREEPOST LON 15637, Tonbridge, TN9 1BR, Freephone 0800 279 0357 or email ubmidpa@ubm.com
Sponsor:
Marley Eternit. For more information, go to www.marleyeternit.co.uk