This module looks at different types of glass barrier systems
Click here to take the CPD module.
How to use this module: BD Reviews' free continuing professional development distance learning programme is open to everyone who wants to develop and improve their professional knowledge and skills. These modules can contribute to your annual programme of CPD activity to help you maintain membership of professional institutions and bodies. All you have to do is read this module then take the questions via the link above or at the bottom of the page.
Module 14 deadline: February 3 2012
Glass barrier systems can be used in a range of applications, both internally and externally, providing an attractive, minimalist appearance.
Types of glass barriers
There are three common types of glass barriers:
Full-height barrier The glass forms part or the whole of a wall element. The barrier should be designed in accordance with British Standard 6180 if any part of the glass comes below the minimum barrier height.
Barrier with a glass infill panel The top rail and baluster form the main frame and should be designed to withstand the loads applied to the top rail. The glass should be used simply to form the infill panels and provides no support to the main frame.
Free-standing glass protective barrier The glass should be designed to withstand the design loads. Each glass plate is clamped to the structure along its bottom edge, the handrail is attached to the top edge of the glass and there are no balusters. Free-standing barriers will be the focus of this CPD module.
There are two types of glass that can be used as barriers with the Taper-Loc system:
Monolithic tempered glass 10mm thickness is suitable for windscreens and partition systems only. The 12mm, 15mm thicknesses are suitable only for balustrading. The 19mm thickness meets ASTM, BSI, and DIN tolerance standards.
Laminated tempered glass thicknesses of 13.52mm, 17.52mm, 21.52mm and 25.52mm are available.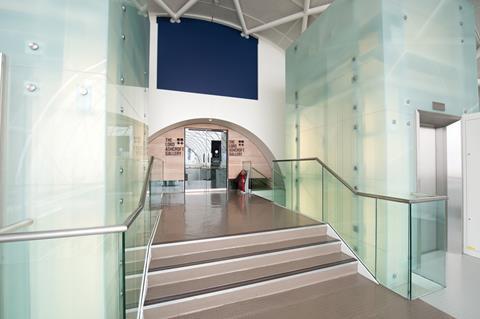 Methods of installing glass barrier systems
For free-standing glass barriers, the panel is anchored in a channel, usually of steel or heavy aluminium, known as the "base shoe". This shoe can be embedded in concrete, welded to a steel substrate or surface-fixed using socket-head machine bolts. There are two methods of fixing the glass to the base shoe.

Wet glazing
This method sets the glass by pouring expansion cement or applying structural silicone around the base of the glass. The advantages of this type of system are that the materials tend to be cheaper, it is resistant to water penetration and it restricts glass movement, or "walk". The disadvantages are that it is costly to realign the barrier if it is installed incorrectly, and it requires a lot of workmanship. This puts up the cost and slows the installation time — for example, special tools are needed to pour the cement in, it requires time to set, and the glass often needs cleaning after installation.

Dry glazing
This method sets the glass by using a vinyl gasket material instead of silicone or expansion cement. Often, a "shoe" bracket or isolator is applied to the bottom of the glass and wedges are driven in between the bracket and the base shoe with a hammer. This relies on the installer to gauge how many times to hit the wedge into place, but generally less workmanship is required on site, which brings the cost down in comparison with wet glazing systems. Traditionally, dry glazing systems have been regarded as less strong than their wet counterparts, as the gasket can shrink or roll in the pocket, placing uneven stress on the glass, and allowing it
to "walk".

A variation on the dry glazing system for free-standing glass balustrades is the Taper-Loc system. Instead of using wedges driven into place with a hammer, the Taper-Loc system uses tapered nylon plates to lock toughened or toughened laminated glass into a heavy aluminium extruded base shoe. An installation tool slides the tapers horizontally into the base shoe on either side of the glass and compresses them together. When compressed, they expand and lock in place. A torque wrench tightens them further.

The system is suitable for both toughened monolithic glass (between 10 and 19mm) and laminated toughened glass (between 13.52 and 25.52mm), and is intended for both interior and exterior weather-exposed applications. The 10mm thick-ness is suitable for windscreens and partitions only.

An important advantage over wet glazing systems is that the installation tool can also be used to loosen the tapers for glass realignment or replacement.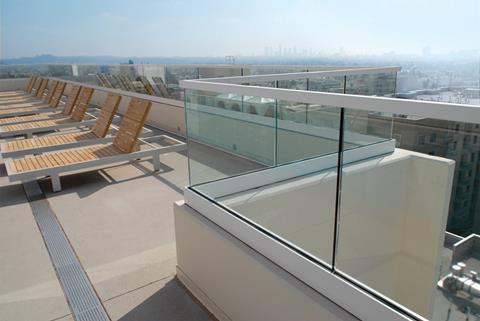 Relevant standards for free-standing glass barriers
BS 6180: 1999
The most important British Standard for glass barriers is BS 6180: 1999 — Barriers in and about buildings.

This British Standard provides recommendations for the design and construction of temporary and permanent barriers, provided in and about buildings and places of assembly, such barriers being positioned and designed to protect people from hazards and to restrict or control the movement of people or vehicles.

Article 8.5 contains specific guidance on free-standing glass barriers — 8.5.2 states that where the barrier protects a difference in level greater than 600mm, a handrail should always be used.

Article 8.6 deals with impact resistance.

All systems should be maintained in line with article 8.7, which states that all glass should be regularly cleaned and fixings should be checked for corrosion and loosening.

BS 6399-1: 1996
Another key standard is BS 6399-1:1996 — Loading for buildings, Code of practice for dead and imposed loads.

This Part of BS 6399 provides dead and minimum recommended imposed loads for use in designing buildings.
It applies to:
new buildings and new structures;
alterations and additions to existing buildings and existing structures;
existing construction on change of use.
The principal change in this edition of the standard is the presentation of the imposed floor loads according to the type of activity/occupancy, rather than occupancy class.The weights of movable partitions which were redefined as imposed loads, to retain their classification.

The reductions in floor load with number of storeys and with area have also been clarified.
Handrails, guard rails and cap rails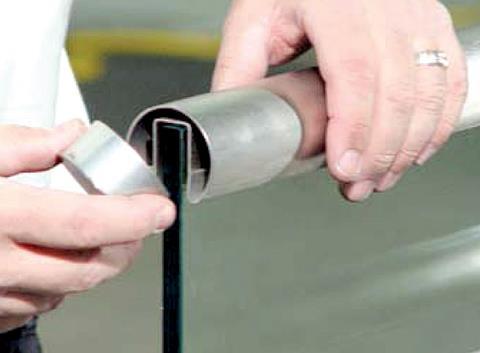 HANDRAILS
Continuous fixing should be used for fixing the handrail (also commonly called a grab rail) to the glass, as individual fixing points may introduce unacceptable stress concen-trations. The handrail should be attached to the glass in such a manner that, should a glass panel fracture, the handrail:
will remain in position
will not fail if the design load is applied across the resulting gap.
This condition may be relaxed where the glass pane is an end panel and protects a difference in level of 600mm or less — for example, at the foot of a flight of stairs. In cases where an end pane protects a difference in level greater than 600mm, there would normally be some adjacent structure to which the handrail could be attached, thus enabling it to meet this condition.

GUARD RAILS
Whereas handrails are normally noted as used for guidance and support, guard rails are intended to prevent accidental falls. They take the form of a barrier erected along the open edges of a floor opening, wall opening, ramp platform, runway, balcony, or other elevated area to guard against falling off the edge.

CAP RAILS
This is the top member of a glass barrier system, but it may also be considered as a handrail in stair applications, as long as code requirements are met. They are available in a variety of sizes and finishes to accommodate monolithic and laminated toughened glass. Custom profiles are also available.
Postscript
To complete this CPD, read the module and click here to take the test online. If you experience any problems viewing the test online, contact bdreviews.cpd@ubm.com
MODULE 12 DEADLINE: 3 February 2012
Privacy policy:
Information you supply to UBM Information Ltd may be used for publication and also to provide you with information about our products or services in the form of direct marketing by email, telephone, fax or post. Information may also be made available to third parties.
"UBM PLC" may send updates about BD CPD and other relevant UBM products and services. By providing your email address you consent to being contacted by email by "UBM Information Ltd" or other third parties.
If at any time you no longer wish to receive anything from UBM PLC or to have your data made available to third parties, please write to the Data Protection Coordinator, UBM PLC, FREEPOST LON 15637, Tonbridge, TN9 1BR, Freephone 0800 279 0357 or email ubmidpa@ubm.com
Sponsor:
CR Laurence. For more information, go to www.crlaurence.co.uk