Alder Hey NHS trust seeks architect-led team for latest element of its park campus
Liverpool's Alder Hey Children's NHS Foundation Trust is looking for a design team to deliver a new community-focused hospital building for its park campus development, which includes BDP's RIBA National Award-winning main hospital.
Billed as a "competitive procedure with negotiation", the selection process is being run by RIBA Competitions and seeks interest from architect-led multi-disciplinary design teams in delivering a potentially expanding brief.
RIBA Competitions said the first phase of the project would involve around 2,400sq m of accommodation for children's health services currently housed in old buildings on Alder Hey's existing estate, or elsewhere in the city.
"Services are expected to eventually include outpatient clinics, inpatient wards, operational support, administration and education," it said.
"It is currently envisaged that realisation of the community cluster may involve a phased approach as service users of the building are confirmed."
RIBA Competitions added that while the building would contain clinical services, its primary role as a community building that connected with its natural surroundings would need to be evident within the preferred scheme.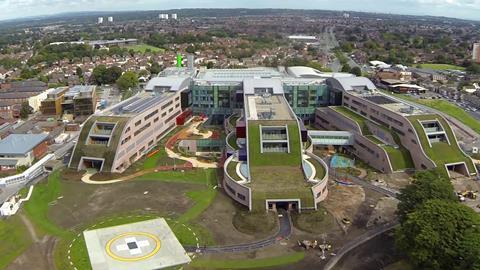 Alder Hey development director David Powell said the proposed community cluster building would be "an integral part" of the trust's Alder Hey in the park healthcare campus, which includes a dedicated research, education and innovation facility by Hopkins Architects in addition to BDP's main hospital.
"Our brief is to create an innovative, high-quality building; one which reflects the nature of the clinical and non-clinical services within it while encompassing our vision of creating a parkland community for our patients, families and staff," he said.
Initial expressions of interest need to be made via the Due North Pro Contract Trust E-Tendering system, by 2pm on November 2.
RIBA Competitions said up to four bid teams would be shortlisted to participate in the selection process' negotiation phase, which it said would include design-approach workshop sessions ahead of the submission of final tenders in February next year.