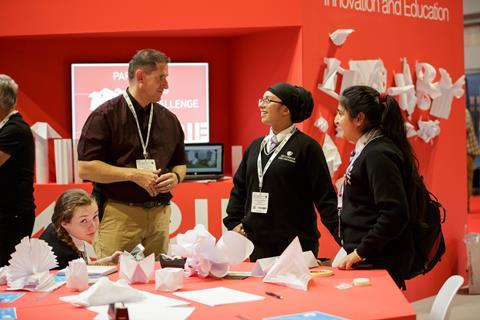 Change, innovation, and reform are key themes at this year's UK Construction Week (UKCW). With Brexit looming, housing in crisis and climate change on our doorstep, it has become all the more important to look for innovative solutions to meet the challenges ahead.
Now in its fifth year, UKCW is the biggest construction event on the calendar and will once again be held at Birmingham's NEC on the 8-10 October. This year UKCW is shining a spotlight on the serious change-makers in construction. Key innovation themes throughout the 2019 event include modern methods of construction (MMC), sustainability, the digital revolution and diversity in the workforce and how they impact risk management, productivity and skills.
Material Innovation
Materials that won't impact on the environment are essential for future designs. The MaterialDistrict Expo, part of the Surface and Materials section of the show, is the place to discover what new and innovative materials are available. Returning for a second year, MaterialDistrict will showcase the latest smart, circular, bio based, recycled and lightweight materials for a more sustainable and healthier built environment. Titled 'Material Innovation', this area of the show will offer samples of products that address the current global issues including energy, general health and available resources. It really is a must see for forward thinking architects.
Be inspired
The Construction Innovation Hub (the Hub) will be exhibiting at this year's UKCW, where visitors can find out more about the recently launched Platform Design initiative. The initiative is designed to encourage innovation in MMC for a range of government projects such as schools, hospitals and prisons.
Inspiring future architects, George Clarke's educational charity, MOBIE, has teamed up with the Hub to create the Student Design Challenge. This project asked students to design the ultimate 21st century house, taking into consideration technology, affordability, size, space, family growth, sustainability, comfort, individuality and aesthetics. The winning design will be on display at UKCW.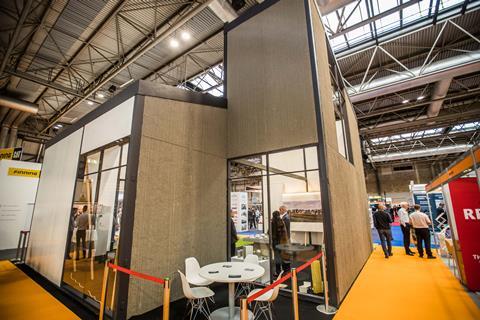 Award-winning innovations
New for 2019 is UKCW's Innovation Zone. In partnership with the Hub, the zone is designed as an inspirational space where visitors can explore new ideas. And to showcase the best, UKCW has launched a new Innovation Award. Arbiters from Willmott Dixon, Luton Airport, Bryden Wood, Mace, TfL, The Prince's Foundation, Castle Planning and the Construction Innovation Hub will choose the winner, to be announced on the second day of the show.
Displays will include the latest prototype of Semblr's bricklaying construction robots. Fully integrated with BIM workflows, the cat-sized robots are designed to operate in a swarm to speed up bricklaying.
Sharing tasks and information can be time consuming, especially if big files are included. PlanRadar has developed an all new task management system which works in 3D. This is essentially a 3D BIM version for designers, architects and builders. The system makes sharing plans much easier.
Fire has been on everyone's agenda since Grenfell with many companies adding fire proofing to their ranges. Tenmat have introduced a new product range of passive fire protection to provide fire breaks around ceiling fittings. The products are downlight covers, fire rated air valves and ceiling fan fire stops. A ceiling is only as fireproof as its weakest element, so this new product range is essential to improve fire safety.
And with the ban on gas central heating for new homes from 2025 and a drive to retrofit existing housing with alternative heating technologies, Mitsubishi's new ultra-quiet Ecodan air source heat pump will be on display.
A packed conference schedule and seminar programme
UKCW brings together more than 300 experts across 10 different hubs, theatres and of course the UKCW Main Stage. Hear from Steve McIntyre, urban environment consultant from ANS Global who will be discussing sustainable and biophilic architecture; Peter Ungar, director Ungar Architects will look at maximising small and 'difficult' spaces; and Lee Bennett, partner at Sheppard Robson will cover timber building case study: Hardman Square Pavilion.
And with Brexit looming attending 'Brexit Boom or Bust? Industry Economic Forecast 2020' on the UKCW Main Stage is a must.
Modern Methods of Construction (MMC) and sustainable communities
Free seminars, which will need booking in advance, include the update on the Government's MMC Working Group and its upcoming policies, from Mark Farmer, author of the 'Modernise or Die' report and chief executive of Cast Consultancy on Wednesday 9 October on the UKCW Main Stage.
The following day there is a keynote event on 'Sustainable Communities: delivering energy-efficient, modular and cost-effective homes'. This will look at the interface between MMC and community-led housing, and will feature Joseph Daniels, chief executive of Project Etopia.
UKCW is one event with many sections, including Build sponsored by Easy-Trim, Building Tech, Civils, Energy and HVAC, Surface and Materials, and Timber. It also features Concrete Expo (8-9 October only) and Grand Designs Live (9-10 October only).
UKCW is free to attend and single registration gives access to all areas of the show. For further information visit www.ukconstructionweek.com.