Architects are subject to rigorous procurement rules. Why wasn't the same scrutiny applied to Carillion?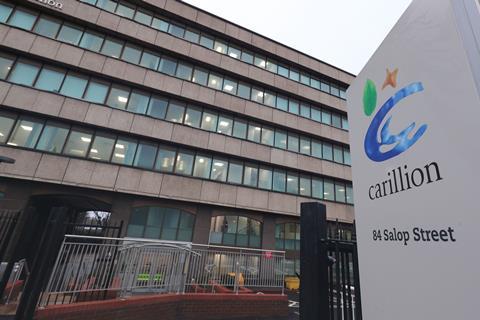 Architects were today asking how Carillion could have been awarded public contracts after it issued a profit warning.
Serious questions need to be answered about the risk the public purse and sub-contractors were exposed to, they said.
Sub-contractors including architects are expected to jump through considerable hoops to prove their financial viability when they bid for public sector work – a bar that appears to have been lowered for Carillion.
Rab Bennetts, co-founder of Bennetts Associates, said: "Questions will have to be asked for sure about the assessment of capability for contracts awarded.
"We do Ojeu bids all the time and you have to put detailed information in on all your financials and then you're grilled on them. It's a rigorous and detailed process.
"How on earth can a contractor like that be awarded projects after having profit warnings?"
Bennetts has been employed by Carillion many times in the past but is not currently working for the contractor. The architect was not novated to work on its £6m King's Cross sports hall after it won planning.
Not many small firms could afford to work for a contractor that extended its payment scheme to 120 days – as Carillion did in 2013 – because of the effect on cashflow, he said.
BDP is another practice that has worked with Carillion on multiple projects, most of them in the healthcare sector. Most recently it worked on the £430m Southmead hospital in Bristol, for which it has been paid in full.
The practice's Martin Davies said architects that were working on live projects with Carillion would be worrying about whether they would get paid and whether they could avoid making redundancies.
"Projects will stop which causes a headache in terms of resourcing for architects," he said.
"Getting paid is the first big concern. Then the major headache will be, 'Do we make the call to get rid of people?' because if it's a big project you can't just redeploy a huge team.
"The question will be, 'How long before the project restarts and will it be picked up by another firm or stop dead?'."
Meanwhile, there are architects employed directly by Carillion whose jobs have been thrown into confusion by today's news.
The Architects Registration Board lists five architects who are direct employees of Carillion. Two are based at the company's Wolverhampton headquarters, one in Bristol and another in Glasgow. A fifth architect is based in Stockport where a Carillion joint venture with property firm CBRE has a 10-year contract to deliver strategic property services for the council. The deal – which commenced at the end of 2013 – includes a design-and-construct element, as well as estate-management and FM services.