Crowdfunding drive launched to fight Hawkins Brown school and flats
Campaigners fighting proposals for a new school and block of flats next to London's Golden Lane Estate have launched a crowd-funding drive to help overturn planning permission granted to the scheme.
Earlier this year the Islington council and the City of London Corporation consented Hawkins Brown's proposals for a 450-place primary school and a 14-storey social-housing block on land north of the estate.
Designed by Barbican architects Chamberlin, Powell and Bon and built between 1953 and 1962, the Golden Lane Estate has parts that are grade II* listed and is viewed as an exemplar of post-war architecture.
Residents opposed the Hawkins Brown scheme through the planning process because of its impact on neighbouring homes but failed to stop Islington and the City approving the scheme at meetings held in March.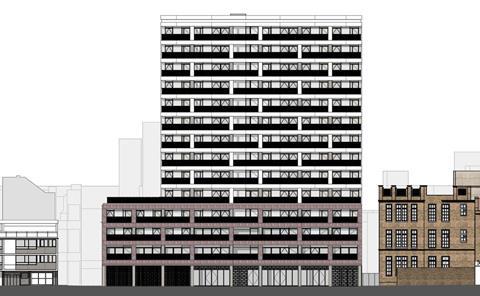 Now they have created a new group, called Fans of Golden Lane – short for Friends, Admirers, Neighbours and Supporters – to fully explore the extent to which the planning decisions made in relation to the controversial scheme can be challenged. They have set themselves one month to raise £6,000 for legal support to ascertain whether the processes used were legally sound, with a view to a potential judicial review.
Fans of Golden Lane point to concerns raised by Islington's conservation and design officer, who they said had observed that there was "no clear or convincing justification for the harm" the apartment block would do to neighbouring buildings.
They also highlight a local planning document that recommends a "maximum building height of six storeys for the area" and created rival proposals that they say were ignored by planning bosses.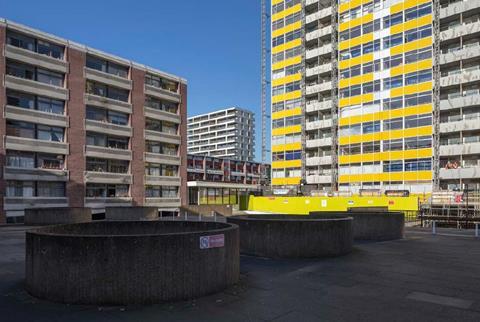 A report to members of the City's planning and transportation committee, who gave their backing to the scheme on March 26, conceded that the proposals did not comply with some local policies. But officers insisted that "when considered as a whole" the scheme was in line with the City of London's local plan and the London Plan.
Fans of Golden Lane member Clem Cecil, who is a former director at Save Britain's Heritage and an estate resident, said the plans created for Islington and the City failed to protect Golden Lane's integrity and should be blocked.
"The reasons Golden Lane works so well as an estate are precisely those that are absent in the proposed scheme, which will not only cause substantial harm to the estate and surrounding neighbourhood but will also create sub-standard housing with no outside space," she said.
"This is a missed opportunity to enhance the area and to create a high standard new housing unit. We believe a better solution can be found, as we demonstrate in our alternative scheme."
The Fans of Golden Lane crowdfunding page can be found here.