Steel used expressively to create large spans and soften form
COMMENDATION
THE WALBROOK BUILDING
London
Architect Foster + Partners
Structural engineer Arup
Steelwork contractor William Hare Ltd
Main contractor Skanska UK PLC
Client Minerva Ltd
"We've exploited the real advantage of using steel in this building" says Foster's senior partner Grant Brooker of The Walbrook, a 10-storey office and retail development opposite London's Cannon Street. "It couldn't have been concrete - the spans are too great and the slab too slim."
According to Brooker, as well as creating the large spans, the steel was used expressively to help soften the building's form, revealing the column casings and grid externally, and creating the rippling street facade as well as the curved mansard as the building steps back in height at upper levels.
In this way, the architects broke down the potential bulk of the building in response to its sensitive site close to Wren's St Stephen Walbrook church and Mansion House.
"We like the idea of reading the structure very, very clearly," he says. "Internally, you can see the sweeping curves and how the line of structural columns is adjusting to the geometry … The upper floors really recede quite dramatically."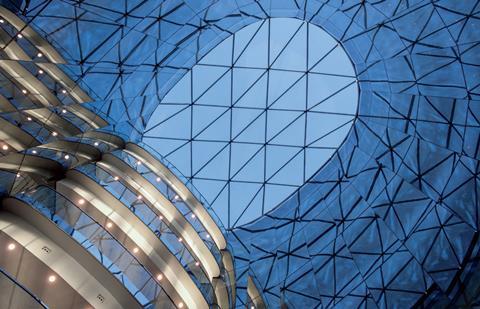 Typical floor plates have just 10 internal columns within a 9m grid, with clear spans of 21m.
The structure consists of structural steel columns and beams with composite floor slabs on metal decking. Cellular beams are used for the services distribution.
Two atriums from third to ninth floor levels bring daylight into the building, while externally the building is shaded by a fibre-reinforced polymer system, with louvres increasing in density on the upper floors, where more solar shading is required.
The judges praised the Breeam "excellent" building for "further developing steelwork's capabilities for offices."
Judge Bill Taylor said: "It's an interesting project, and we were quietly impressed by the use of structural steel and how the building had been constructed using steel to save a great deal of time."
The Walbrook was constructed using 6,313 tonnes of structural steelwork.
Postscript
In association with The British Constructional Steelwork Association and Tata steel