Design responds to exceptional demands with steelwork key to the project
AWARD: THE ROYAL SHAKESPEARE THEATRE
Stratford-upon Avon
Architect Bennetts Associates
Structural engineer Buro Happold
Steelwork contractors Billington Structures Ltd (primary steelwork) CMF Ltd (auditorium steelwork)
Main contractor Mace Group Ltd
Client Royal Shakespeare Company
It took approximately 1 million man-hours to complete the £112 million remodelling of the Royal Shakespeare Theatre in Stratford-upon-Avon. This complex project upgraded the facilities to present-day standards, while creating a new main auditorium with the intimate dimensions of a medieval courtyard theatre.
Steelwork by Billington Structures and CMF played a crucial role in the whole transformation project, making the construction as light as possible to minimise piling requirements in the waterside location. The building uses 580 tonnes of steel to create extensions to the existing listed building, including the new auditorium.
Here, the exposed steel created the structure and also reflected the architect's desire to create a hand-made aesthetic.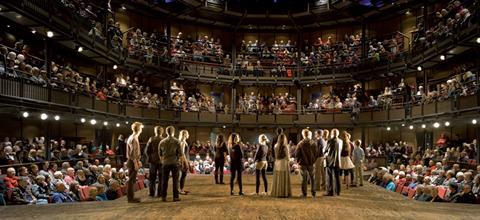 The 1,040-seat auditorium is formed by four 24m-long, 3.4m deep, steel roof trusses. These rest on the concrete auditorium walls that form the sides of the auditorium building.
The upper seating tiers are supported on 10 slender cruciform columns with the ring beam structure tied back to concrete cores behind the auditorium walls.
The judges praised the way the design team responded to the "exceptionally challenging" and evolving demands of the project, with steelwork key to the creation of the major new areas.
Postscript
In association with The British Constructional Steelwork Association and Tata steel